According to the report, which has been published by Transparency Market Research, the global solar PV installation market will exhibit steady growth to stand at US$145.9 bn by the end of 2018.
Albany, New York, October 19, 2015: Market Research Reports Search Engine (MRRSE) has announced the addition of a new report on the Solar Photovoltaic (PV) Installation Market to its website. This study analyzes the global solar PV installation market on the basis of grid type, technology, and end use. The report, titled, 'Solar Photovoltaic (PV) Installation Market by Grid Type (Grid-connected, Off-grid), by Technology (Thin film PV, Crystalline PV, Others), by End Use (Residential, Commercial, Utility-scale) - Global Industry Analysis, Size, Share, Growth, Trends and Forecast, 2012-2018, states that the market will log a 10.7% CAGR from 2012-2018. A growing pressure on countries to bring down levels of carbon emissions is compelling governments and environmental agencies to turn toward renewable energy sources.

Browse Full Report with TOC: http://www.mrrse.com/solar-photovoltaic-market
While solar PV installations were prohibitively expensive until a decade ago, their prices have since shown a dramatic decline. This has encouraged more investments in solar PV installations, helping the market report healthy growth. Solar energy is now considered a viable alternative to conventional energy sources, attracting higher investments from both governments and private utilities with every passing year. Areas that receive abundant amounts of sunlight will be at the forefront of investments in the global solar energy markets.
For the purpose of this study, the global solar PV installation market is segmented on the basis of grid type, technology, end use, and geography. By grid type, the market is segmented into off-grid solar PV and grid-connected solar PV. These two technologies are unique and as a result cater to disparate demands; the incentives associated with these technologies (through feed-in tariffs) are also different. South Africa, for instance, is currently witnessing staggering investments in off-grid solar PV systems.
Likewise, by technology, the report classifies solar PV installations into crystalline silicon solar PV, thin film solar PV, and others (which include CPV and organic PV). The growth of the global solar PV installation market will be steered by a growing demand for thin film PV installations. This will mean that companies dealing in conventional silicon PV systems will be compelled to reinvent their products and solutions to keep up with emerging technologies. The silicon PV segment held the largest share of the global market in 2011 thanks chiefly to the low cost of this technology.
Using end uses of solar PV installations as a criteria, the report segments the global market into commercial, residential, and utility-scale solar PV. There has been a dramatic rise in the number of solar PV installations in the residential and commercial sector, especially as consumers consider solar power as a veritable means to go off the grid. Solar PV installations in hospitals, hotels, and commercial clusters are soaring as these entities look to cut costs.
The regional markets analyzed in the report are: North America, Asia Pacific, Europe Middle East and Africa (EMEA), and Rest of the World (RoW). Europe, by virtue of an incredibly support framework for solar energy, has remained at the forefront of the global solar PV installation market. However, the emergence of the Asia Pacific solar PV installation market is unprecedented with China, India, and Japan being the most profitable national markets.
Companies that account for an appreciable portion of revenues in the global solar PV installation market are: Sun Power Corporation, Suntech Power Holding Co. Ltd., First Solar Inc., Canadian Solar Inc., Solar Frontier Ltd., Trina Solar Ltd., and others. All of the leading companies have been profiled in detail in the report.
Request a Free Sample Copy of the Report @ http://www.mrrse.com/sample/490
About Us
Market Research Reports Search Engine (MRRSE) is an industry-leading database of market intelligence reports. MRRSE is driven by a stellar team of research experts and advisors trained to offer objective advice. Our sophisticated search algorithm returns results based on the report title, geographical region, publisher, or other keywords.
MRRSE partners exclusively with leading global publishers to provide clients single-point access to top-of-the-line market research. MRRSEs repository is updated every day to keep its clients ahead of the next new trend in market research, be it competitive intelligence, product or service trends or strategic consulting.
Contact
State Tower
90, State Street
Suite 700
Albany, NY - 12207
United States
Telephone: +1-518-618-1030
Email: sales@mrrse.com
Featured Product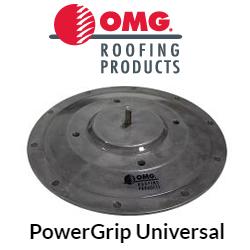 Eliminate Solar Rack Ballast and Reduce Rooftop Material Handling. PowerGrip™ Universal (PGU) is a commercial roof mount system designed to secure solar racks and other equipment to any type of commercial roofing system. PGU provides a secure connection directly to the roof deck or structural members and is designed to reduce or eliminate ballast in solar racking systems, so there's less weight on the roof and less material handling. Made of heavy-duty cast aluminum, PGU units include a base ring which is secured through the roofing cover and into the structural roof deck, and a waterproof top plate.