Hanwha Q CELLS will become one of Sunrun's main suppliers next year providing up to 135 MW of modules, nearly three times their previously signed module supply agreement in 2015.
SEOUL, South Korea, Dec. 9, 2015 -- Hanwha Q CELLS Co. Ltd. ("Hanwha Q CELLS") (NASDAQ: HQCL) today announced it will increase its 2016 solar module supply agreement with Sunrun (NASDAQ: RUN), the largest dedicated residential solar company in the United States. Through the partnership, Hanwha Q CELLS will become one of Sunrun's main suppliers next year providing up to 135 MW of modules, nearly three times their previously signed module supply agreement in 2015.

"We are pleased to have access to a steady supply of high quality modules from an industry leader like Hanwha Q CELLS," said Paul Winnowski, chief operating officer of Sunrun. "Sunrun is committed to providing simple, affordable solar to homeowners and creating a great customer experience. This agreement will enable us to continue doing so in the coming year."
The cells and modules will be manufactured from Hanwha Q CELLS' fully automated facilities in Malaysia and South Korea. The agreement will feature the Q.PRO BFR-G4 and Q.PLUS BFR-G4 product lines. The Q.PLUS BFR-G4 uses Hanwha Q CELLS' proprietary, high-efficiency Q.ANTUM cell architecture to achieve more power than the industry's standard solutions. Hanwha Q CELLS is the first company that successfully commercialized multi c-Si PERC cell in mass production.
Mr. Justin Lee, President of Hanwha Q CELLS America said, "This agreement further solidifies and strengthens the relationship that Hanwha Q CELLS has with Sunrun. With Hanwha Q CELLS' demonstrated module quality and Sunrun's reach in the U.S. residential market, we are confident that this will further strengthen our position as one of the leading providers of solar modules."
About Hanwha Q CELLS
In February 2015 Hanwha Q CELLS Co., Ltd. (NASDAQ: HQCL) emerged as a new global solar power leader from combining two of the world's most recognized photovoltaic manufacturers, Hanwha SolarOne and Hanwha Q CELLS. The combined company is listed on NASDAQ under the trading symbol of HQCL. It is headquartered in Seoul, South Korea, (Global Executive Headquarters) and Thalheim, Germany (Technology & Innovation Headquarters) and is the world's largest solar cell manufacturer as well as one of the largest photovoltaic module manufacturers. Due to its diverse international production setup including facilities in China, Malaysia and South Korea, Hanwha Q CELLS is in the unique position to flexibly address market needs globally, even including certain key markets with import tariffs, such as the USA and the European Union. Based on its well respected "Engineered in Germany" technology, innovation and quality, Hanwha Q CELLS offers the entire range of outstanding photovoltaic products, applications and solutions, from modules to kits to systems to large scale solar power plants. The combined company is also engaged in downstream development and EPC business. Through its growing global business network spanning Europe, North America, Asia, South America, Africa and the Middle East the company provides excellent services and long-term partnership to its customers in the utility, commercial, government and residential markets.
Hanwha Q CELLS is a flagship company of Hanwha Group, a Top-Ten business enterprise in South Korea. For more information, visit: http://investors.hanwha-qcells.com/
Featured Product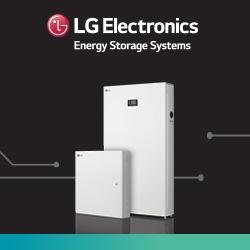 Meet LG Electronics Home 8 Energy Storage System (ESS), a whole home battery backup solution built with installers and their homeowner customers in mind. The ready-to-deploy Home 8 features just one SKU and a modular assembly for fast installation. It can be AC-coupled or solar-powered and is engineered with a grid-connected inverter, four battery modules, and a Smart Energy Box featuring a 7'' LCD touchscreen with commissioning wizard for easy setup. Each Home 8 unit can store up to 14.4 kWh of usable power, helping homeowners gain pure independence from the grid. Plus, installers can connect up to four units, bringing customers up to 57.6 kWh of total backup power-all easily managed and monitored through intuitive mobile apps.