On Dec. 14th brewers in North Carolina, among them Appalachian Mountain Brewery, French Broad Brewery, Highland Brewing Company, Innovation Brewing, New Belgium Brewing and Sierra Nevada Brewing Company, were awarded the Solar Champion Award by the Solar Energy Industries Association (SEIA) for their decision to use solar power for at least part of their operations.
North Carolina is the southeast leader of solar energy in the U.S. It has 1,264 megawatts of solar power installed in North Carolina. It is the 4th largest solar market in the country. More is on the way, too, with large companies like Google and Apple locating data centers there that they're powering with solar energy.

"In this instance, craft breweries are showcasing to businesses and homeowners alike that solar energy is a clean, reliable and affordable power choice," SEIA said. The organization explained that the breweries it's honoring are using enough electricity from solar power to power roughly 150 to 200 homes. Breweries in other states are also adopting solar power.
"We strongly believe in doing anything within our means to reduce our footprint on an individual and business level," said Innovation Brewing Owner Nicole Dexter. "Utilizing solar power is one of many ways we hope to continue to grow and operate sustainably."
For instance, Highland Brewing's 325-kilowatt solar array will be overseen by its customers. "When the rooftop bar opens in spring 2016, guests will overlook the solar array and view the surrounding mountains. It's a literal view of clean energy as it connects to clean environment," said Leah Wong Ashburn, president of Highland Brewing Company.
"Highland chose to go solar because we are a better community member when we use a sustainable energy source with no environmental impact," Ashbury added. That installation was installed by Charlotte's Entropy Solar using panels made by Canadian Solar.
....for more visit SolarReviews.com
Featured Product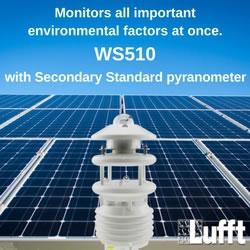 First and only Smart Weather Sensor with integrated Kipp & Zonen CMP10 Pyranometer (secondary standard). From the WS product family of professional intelligent measurement transducers with digital interface for environmental applications. Integrated design with ventilated radiation protection for measuring: Air temperature, relative humidity, air pressure, wind direction, wind speed and radiation. One external temperature or rain sensor is connectable.