- ASUR will buy power generated by the plant
MEXICO CITY, Dec. 16, 2015 -- Grupo Aeroportuario del Sureste, S.A.B. de C.V. (NYSE: ASR; BMV: ASUR) (ASUR), a privatized airport group in Mexico and operator of Cancun Airport and eight other airports in southeast Mexico, as well as a 50% JV partner in Aerostar Airport Holdings, LLC, operator of the Luis Munoz Marin International Airport in San Juan, announced an agreement today with SunPower Corp. (Nasdaq: SPWR) (SunPower) for 36 megawatts of solar power to serve ASUR's operations in Mexico. ASUR will buy power generated by the solar power plant under a long-term power purchase agreement (PPA) with SunPower.

"We anticipate that this cost-competitive solar power from SunPower will offset expected increases in the cost of electricity from fossil fuel sources over the long-term," said Adolfo Castro, Chief Executive Officer of ASUR. "As a member of the Dow Jones Emerging Markets Sustainability Index, this is a critical step in further reducing the carbon footprint of our airports. Through our energy efficiency efforts to-date we have reduced energy per passenger by 34 percent over the past six years. This PPA will allow ASUR to cover 100 percent of its energy requirements as of the date of this announcement with solar power, an important milestone in our sustainability strategy. By supporting operational efficiencies as well as our sustainability goals, this agreement is a win for ASUR's employees, customers and shareholders and for the communities in which we live and work."
SunPower expects to start construction on this 36-megawatt phase of a solar plant in Mexico in 2016. Once the project is operational, SunPower will provide operations and maintenance services, including monitoring power plant production.
"Increasingly, off-site solar is an option selected by businesses that want to take advantage of the value and benefits of solar, but lack available land at their own facilities to generate the amount of power they need to serve demand," said Jorg Heinemann, SunPower Executive Vice President, Global Power Plants. "We will be providing cost-effective solar power for ASUR's airports in Mexico, taking advantage of this country's abundant solar resource. SunPower is proud to partner with ASUR in increasing Mexico's solar power capacity, as represented by this significant agreement."
At the site, SunPower plans to design and build a SunPower Oasis Power Plant system. Oasis is SunPower's fully integrated, modular solar power block solution for utility-scale solar projects that is designed to optimize land use and is engineered for rapid, cost-effective installation. The technology includes SunPower's proprietary robotic solar panel cleaning capability that uses 75 percent less water than traditional cleaning methods and can help improve system performance by up to 15 percent.
About ASUR
Grupo Aeroportuario del Sureste, S.A.B. de C.V. (ASUR) is a Mexican airport operator with concessions to operate, maintain and develop the airports of Cancun, Merida, Cozumel, Villahermosa, Oaxaca, Veracruz, Huatulco, Tapachula and Minatitlan in the southeast of Mexico. ASUR is a 50% JV partner in Aerostar Airport Holdings, LLC, operator of the Luis Munoz Marin International Airport in San Juan, Puerto Rico. The Company is listed both on the Mexican Bolsa Mercantil de Valores, where it trades under the symbol ASUR, and on the NYSE in the U.S., where it trades under the symbol ASR. One ADS represents ten (10) series B shares.
About SunPower Corp.
As one of the world's most innovative and sustainable energy companies, SunPower Corp. (Nasdaq: SPWR) provides a diverse group of customers with complete solar solutions and services. Residential customers, businesses, governments, schools and utilities around the globe rely on SunPower's more than 30 years of proven experience. From the first flip of the switch, SunPower delivers maximum value and superb performance throughout the long life of every solar system. Headquartered in Silicon Valley, SunPower has dedicated, customer-focused employees in Africa, Asia, Australia, Europe, North and South America. For more information about how SunPower is changing the way our world is powered, visit www.sunpower.com.
Featured Product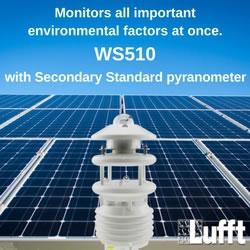 Professional weather sensors form the heart of large solar plants supporting their operation and performance. Lufft was the first manufacturer to combine several sensors in one housing, bringing the largest multiparameter weather sensor family with 19 members into being. Many of them are well-suited for solar site assessment and continuous monitoring. The most commonly used one is the WS600 delivering data on temperature, air pressure, wind, relative humidity and precipitation. Through its open protocol, it can easily be attached to radiation sensors e.g. from Kipp&Zonen. Other models have an integrated Silicon, Second Class or Secondary Standard radiation sensor.