Renewables Obligation support will close to all solar as of next April ---- Concerns remain over removal of critical 'grandfathering guarantee
The Government has today confirmed its decision to close the Renewables Obligation from 1 April 2016 to all solar projects, both rooftop and ground mounted.

The Renewables Obligation is the long-running scheme that supports larger scale renewables projects, and will continue to be open to other technologies such as offshore wind, hydro and biomass until 2017. It was gradually being replaced with the Contracts for Difference auction system but currently no decision has been made on future auction rounds for 'established technologies like solar.
Support for solar under the Renewables Obligation currently costs just £3 per year on household bills, and solar makes up only 6% of the total Renewables Obligation budget for all technologies.
This decision follows the Governments decision last year to close the Renewables Obligation for solar projects bigger than 5MW in size.
Critically, the Government has also confirmed its decision to end 'grandfathering for projects that do not meet the July cut off date. 'Grandfathering is the guarantee that once a solar project is built the level of support will remain the same for the lifetime of the project.
This has sparked great concern in the investor community, amid claims that it sets a dangerous precedent and has shaken investor confidence in energy infrastructure.
Paul Barwell, CEO of the Solar Trade Association commented:
"Closing the Renewables Obligation for solar is not in the interests of bill payers when solar is soon to become the cheapest low carbon energy source. Following the Paris agreement, this needs rethinking."
"Removing the grandfathering guarantee makes no sense for solar - its the thin end of the wedge. If you invest £1million of capital into a solar project today, in 20 years time you have still invested £1million - it is a sunk cost. You cannot have the level of support changing over the lifetime of a project as investors wont take the risk."
This decision differs to the decision of the Scottish Government, which has devolved powers on key issues, to defy the Department of Energy and Climate Change in London and maintain the grandfathering guarantee. The Scottish Government cited investor confidence as a key reason for doing so. This was welcomed by the solar sector in Scotland.
The Governments parallel decision today on the Feed-in Tariff has reduced support for solar for 1MW and above to less than 1p, and no Contracts for Difference auction has been announced. This means that solar farms and big rooftop solar have currently been left without a support mechanism.
Paul Barwell continued:
"We dont have clarity on when the next auction will take place for bigger projects under the new Contracts for Difference mechanism, and with the closure of the Renewables Obligation as well as reduced support under the Feed-in Tariff, we risk leaving a big support gap for well sited solar farms and very large commercial rooftops."
"We need certainty for investors and the Solar Trade Association will be pushing the Government to ensure we get that certainty."
In addition to this, the Government has published a 'banding review to determine what level of support projects that were built after July 2015 will get from June 2016 onwards. DECC has proposed cutting the number of certificates received for every MWh of solar generation for projects next year from 1.2 to 0.8, but the final level will be decided at the end of the consultation [3]. The certificates are then traded in a market and each certificate is currently worth approximately £42 per MWh.
Featured Product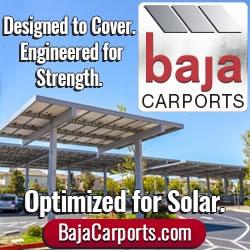 Baja Carports offers an extensive solar support system product line customized to customers' site specifications by in-house engineers, meeting their parking lot coverage, plus optimal PV production needs. Baja's Full Cantilever Tee is often paired with its Semi and Full Cantilever carports to meet live/loads up to 60psf and wind speeds to 160mph. All Baja products are pre-fabricated, bolted connections, pre-galvanized structural steel for fast on-site installation and project aesthetic requirements."