Co-located Events Will Be Most-Attended Solar-Plus-Storage Exhibition and Conference in North America
SAN FRANCISCO, Dec. 16, 2015 -- Intersolar North America, the most-attended solar industry event dedicated to the North American market, announced ees (electrical energy storage) North America will be a new standalone event, co-located with Intersolar North America and SEMICON West. As the first major energy storage-plus-solar event on the continent, ees North America will connect suppliers, manufacturers, distributions and users of stationary and mobile electricity storage systems with solar companies from the U.S and beyond. The exhibition will take place at the Moscone Center West in San Francisco from July 12 - 14, 2016, together with Intersolar North America. Information on booking exhibition space is available online.

"Solar-plus-storage is a powerful combination," said Markus Elsaesser, CEO of Solar Promotion International GmbH, organizer of Intersolar North America and ees North America. "Storage is set to dramatically expand solar's grid penetration and help solar reach new applications. The goal of ees North America is to help companies identify new market opportunities for the energy storage industry, and spur overall market success."
In 2015, more than 50 energy storage companies showcased new products and technologies, from components and production to specific user applications, at the ees special exhibition at Intersolar North America. GTM Research also presented on energy storage market growth and co-produced an energy storage white paper with Intersolar and the California Solar Energy Industries Association (CALSEIA), which was free for attendees. ees North America builds off the success and growth of Intersolar North America's energy storage exhibition segment as well as Intersolar and ees Europe, which is Europe's largest exhibition for batteries and energy storage systems with 330 companies in Munich in 2015.
"Intersolar North America visitors and exhibitors have shown a growing interest in energy storage solutions," added Daniel Strowitzki, CEO of FMMI International, the second organizer of Intersolar and ees North America. "We developed this event to help both start-ups and industry leaders connect. We will provide them with the educational tools and networking opportunities to realize market potential."
Energy storage is critical to achieve a sustainable energy supply from renewable sources. Storage plays a major role in grid stabilization, electric transportation, demand management and beyond. The U.S. is set to be the largest market worldwide, with California as the world's new hub of energy storage innovation and progressive policies, according to GTM Research. The annual U.S. solar-plus-storage market will reach 769 megawatts (MW) by 2020, with a $3.1 billion valuation. In California, the market will reach 422 MW, and account for 54 percent of the total U.S. market. The consumer market for behind-the-meter storage is expected to quadruple in 2015 to 14 MW, and will account for 50 percent of the total U.S. energy storage market by 2017.
On the show floor, the new event will house an e-Mobility special exhibit, showcasing electric vehicles, charging solutions and carports. An ees Stage will feature presentations from exhibitors and industry experts, and a dedicated "Smart Renewable Energy Track." Organizers are working closely with a roster of partners, including NAATBatt International and the California Solar Energy Industries Association CALSEIA, to develop educational and networking programs for exhibitors and attendees.
Additionally, there will be a two-day ees North America conference track, as well as one-day smart renewable energy track at the Intercontinental Hotel, July 11 - 13, 2016. Organizers are looking for experts who can discuss large-scale electricity storage; behind-the-meter storage; battery safety; cost-effective battery storage; business models for commercial and utility-scale storage; and electronic transportation. The call for papers is open.
About ees North America
The ees global exhibition series is the electrical energy storage industry's hotspot for manufacturers, distributors, users and suppliers of stationary and mobile storage solutions. ees exhibitions are organized in cooperation with Intersolar, the world's leading exhibition series for the solar industry.
The ees exhibitions and accompanying conferences are focused on storage solutions for renewable energy, from residential and commercial applications to large-scale storage systems for stabilizing the grids. ees also features energy management, electric transportation and uninterruptible power supply (UPS).
There are three ees events around the world—ees North America in San Francisco, ees Europe in Munich, and ees India in Mumbai. The ees North America debuted in 2015 as a special exhibition in San Francisco. In 2016, ees North America becomes a stand-alone exhibition co-located with Intersolar North America.
With 100 expected exhibitors and 18,000 visitors at the co-located events, it will be the most-attended solar-plus-storage event in the U.S.
For more information on ees North America, please visit: www.ees-northamerica.com
About Intersolar North America
With events spanning four continents, Intersolar is the world's leading exhibition series for the solar industry and its partners. It unites people and companies from around the world with the aim of increasing the share of solar power in our energy supply.
Since its establishment in 2008, Intersolar North America has become the most attended solar event and the premier networking platform for the North American solar industry. Co-located with SEMICON West, Intersolar North America takes place annually at the Moscone Center in San Francisco, in the heart of the United States' pioneering solar market. The event will expand to host a co-located energy storage-focused exhibition, ees North America. ees grew out of Intersolar North America's popular energy storage exhibition segment.
A total of 521 exhibitors and around 17,835 visitors participated in Intersolar North America in 2015. The conference and exhibition program featured 47 sessions with more than 200 speakers and 25 workshops.
Intersolar North America's exhibition and conference focus on photovoltaics, energy storage systems and solar heating & cooling technologies. Since being founded, Intersolar has become the most important industry platform to connect manufacturers, suppliers, distributors, service providers, policy makers, start-up founders, financiers, installers and partners in the global solar industry.
With more than 20 years of experience, Intersolar has the unique ability to bring together members of the solar industry from across the world's most influential markets and solar supply chain. Intersolar exhibitions and conferences are held in Munich, San Francisco, Mumbai, and São Paulo, and, starting in 2016, in Dubai. These global events are complemented by the Intersolar Summits, which take place in emerging and growing markets worldwide.
For more information on Intersolar North America, please visit: http://www.intersolar.us.
Featured Product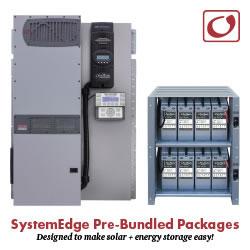 Each pre-bundled package is designed to make solar plus energy storage easy. By combining OutBack's most popular FLEXpower pre-wired systems with matched OutBack energy storage, SystemEdge takes the guesswork out of installing solar plus storage. Every SystemEdge package includes a FLEXpower factory pre-wired system, application-specific EnergyCell batteries and racking, FLEXware ICS Plus combiner and all the necessary connection hardware.