Unique Solar Microinverters Ensured Power Supply During Grid Failure
CHENNAI - SolarTown Energy Solutions Pvt. Ltd. (SolarTown), a pioneer in India's solar industry specializing in the sale, lease and installation of solar rooftop systems for residential, commercial and industrial customers, is pleased to announce that its off-grid solar systems in Chennai remained online, providing critical support to its customers and surrounding communities following the State Electricity Board's decision to suspend the power supply in the city of Chennai following the devastating floods in early December.

Soon after the grid shutdown, communications to and from the city failed once cell phone batteries and that of other personal electronics were depleted. Off-grid solar systems from SolarTown provided the sole source of electricity for dozens of citizens in Chennai. SolarTown customers were also able to assist fellow members of their community by allowing them to charge phones and connect to the internet in order to contact loved ones and send updates on conditions in the city.
"Occurrences like the recent floods in Chennai demonstrate the need for off-grid power sources to provide critical power during natural disasters," said Vikram Dileepan, CEO of SolarTown. "We're proud to provide an affordable and reliable alternative to grid power and to offer a service that supports our community. We're humbled by the responses we've received from our customers in Chennai."
"During the floods in Chennai, our house was the only one with electricity within a one to two kilometer radius. It looked like a small island with power. I recommend solar for every residence and being in the construction business, I plan on providing a SolarTown 1 kW solar system for all my upcoming projects," commented a SolarTown customer.
The off-grid solar rooftop systems provided by SolarTown were fully operational during all three days of the grid shutdown. They continued to operate even with overhead clouds.
"Committed to constant innovation, SolarTown has developed a hybrid solution which includes solar microinverters, solar PV, and battery which can work on-grid as well as off-grid during power shutdowns," commented Vikram. SolarTown has successfully implemented this technology into a rooftop solution for residential and small commercial installations throughout Chennai.
Vikram further commented that this hybrid technology is the need of the hour, particularly in the wake of the recent floods in Chennai and subsequent power cuts. In a recent installation in Thiruvanmiyur, a community of Chennai, SolarTown's hybrid system helped cut electricity costs and provided uninterrupted power supply.
Most of SolarTown off-grid customers have purchased their solar system outright allowing customers to take advantage of accelerated depreciation tax benefits, with payback periods as low as five years. In addition to purchasing a solar system, SolarTown offers homeowners and businesses the ability to lease a solar rooftop system with no money down and a fixed monthly lease rate guaranteed to be lower than the DISCOMs, shielding them from rising electricity rates.
About SolarTown Energy Solutions Pvt. Ltd.
SolarTown Energy Solutions Pvt. Ltd. is a pioneer in India's solar industry specializing in the sale, lease and installation of solar rooftop systems for residential, commercial and industrial customers. SolarTown empowers businesses and homeowners to take control of their electric bills by adopting clean solar power at a fixed cost that is lower than DISCOM rates. To shield its customers against rising energy costs, SolarTown offers two options: direct purchase of a system with accelerated depreciation tax benefits and payback periods as low as five years, or lease of a system with no upfront costs and a fixed rate going forward. Its confidence in its systems is reflected in a unique 15-year performance guarantee and hassle-free O&M service. With over 100 installations and an impressive customer base of some of India's top corporates, such as Infosys, Renault-Nissan, Plant Engineering and Aachi Group, SolarTown is India's preferred supplier of solar rooftop systems from 1 kW to 300 kW. For more information about SolarTown Energy Solutions Pvt. Ltd., visit http://solartown.in/.
Featured Product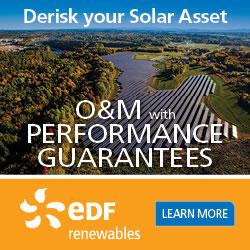 EDF Renewables offers the same innovative solutions that maximize the performance of our own 5.2 GW of installed projects. Because we're not an equipment manufacturer, our recommendations are transparent and data-driven. We cover the entire project lifecycle: from pre-commissioning support, through warranty and post warranty operation, to late stage and decommissioning.