Measurement expert joins forces with Southeastern Wind Coalition (SEWC) for 12-month study to gauge unexploited regional wind potential
Vaisala, a global leader in environmental and industrial measurement, has announced that it is partnering with Southeastern Wind Coalition (SEWC) members: Southern Company - including subsidiaries Southern Company Services and Alabama Power - and Santee Cooper to evaluate the growth of wind energy within the utilities core operating areas. Together the group will collaborate on an in-depth wind feasibility study, which will further expand the groundwork for understanding the potential for utility-scale wind development in a region that has thus far remained almost entirely untapped.

A longstanding reputation for low wind resources in comparison to the rest of the U.S. has led many developers to overlook the Southeast as a potential site for commercial wind energy projects. However, as turbine and resource mapping technologies improve, interest in the region is starting to increase.
As reported by the American Wind Energy Association (AWEA), SEWC, and the National Renewable Energy Laboratory (NREL), taller towers, longer blades, and improved electronics have significantly increased turbine output and efficiency and expanded the areas where wind energy projects are not only feasible but also profitable. Some projections for the next five-to-10 years indicate rapid growth in the Southeast, building on the success of an already well-established wind industry supply chain in the region.
In order to further evaluate this growth and mobilize the development of utility-scale wind projects in the Southeast, the industry requires access to high-quality wind resource data as a basis for crucial project siting decisions and to complete financial modeling.
Vaisalas wind feasibility study, supported by Southern Company, Santee Cooper, and the SEWC, will provide this access by creating a wind resource database of the Southeast, which will be available to coalition members, as well as a wind resource map at high altitudes, which will be publically available.
To complete the work, Vaisala will install a fleet of its Triton Wind Profilers in key locations in the Southeast to collect quality-controlled data at the hub-heights of modern turbines. The Triton mobile remote sensing unit is well suited for this project, since it can be rapidly deployed without the permits required by tall towers and captures wind information at heights up to 200 meters using state-of-the-art SoDAR technology.
Following a 12-month measurement campaign, Vaisala 3TIER Services, the companys consulting arm, will complete a high-resolution spatial analysis of the project area both validated and corrected by the Triton field data as well as other measurement data provided by coalition members.
"The Southeast is poised for considerable wind energy growth," said Pascal Storck, Global Manager of Energy Services at Vaisala. "However, before utilities and developers can start to make the most of the regions wind potential, the industry needs to provide these would-be investors with access to trusted, reliable data."
"That includes comprehensive resource assessment that demonstrates the viability and longevity of southeastern wind energy as an investment proposition."
Marc Tye, Santee Coopers Executive Vice President of Competitive Markets and Generation added, "By conducting this rigorous assessment of wind energy potential in the Southeast, we will be better able to evaluate the case for investment in the region. By combining the capabilities and strengths of all involved, this feasibility study could ultimately lay the foundation for wind energy growth that offers economic benefits to industry, utilities, and residents alike."
Vaisala is an expert in wind measurement, project assessment, and energy forecasting. For more information on the range of services offered by Vaisala to the renewable energy sector, please visit www.vaisala.com/energy
Vaisala Energy
Weather is the largest variable impacting electricity generation, transmission, and demand and it provides the fuel for renewable energy projects. Energy customers work with Vaisala to support efficient, reliable, and profitable electrical energy systems around the globe with a wide range of measurement, assessment, forecasting, and asset management products and services. Our real-time and historical lightning information ensures continuous energy generation, improved safety, and reduced costs in both energy production and transmission. Renewable energy developers and operators use Vaisala equipment and services to support the entire project lifecyle, from greenfield prospecting and due diligence to operational forecasting and plant optimization. linkedin.com/company/vaisala-energy twitter.com/VaisalaEnergy
About Vaisala
Vaisala is a global leader in environmental and industrial measurement. Building on 80 years of experience, Vaisala contributes to a better quality of life by providing a comprehensive range of innovative observation and measurement products and services for chosen weather-related and industrial markets. Headquartered in Finland, Vaisala employs approximately 1500 professionals worldwide and is listed on the NASDAQ OMX Helsinki stock exchange. www.vaisala.com www.twitter.com/VaisalaGroup
Featured Product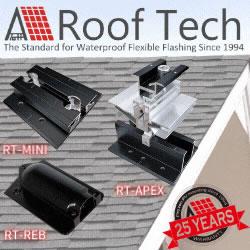 Now Roof Tech brings you the most innovative, watertight mounting systems ever developed for solar photovoltaic systems. Designed and manufactured exclusively for us by Japan's longtime leader in roofing technologies, Roof Tech products are 100% code-compliant and offer fast, simple installation and huge savings on shipping costs due to their compact, rail-less design. Learn more about our full line of versatile PV mounting solutions now available for residential installations. The next generation in rooftop solar mounting solutions."