New Models Offer Simplified Installation, Expanded Features and Secure Power Supply
ROCKLIN, Calif., Jan. 6, 2016—SMA has continued the evolution of its iconic Sunny Boy inverter line with a complete redesign of its popular models with Secure Power Supply. Developed to best suit the needs of the North American residential PV market, the UL-listed Sunny Boy 5.0-US/6.0-US offers simplified processes and a robust feature set that allows for reduced costs across all residential PV business operations. Its enhanced Secure Power Supply feature also now provides up to 2,000 watts of opportunity power, allowing operation of larger electrical loads like refrigerators and space heaters, and affording even more value to homeowners in the event of a grid outage.

"This new line of Sunny Boy inverters delivers cost savings to PV professionals while providing end-users with enhanced features that maximize power production throughout the life of the system," said Marko Wittich, SMA executive vice president of sales for the Americas region. "While inverter options in the residential segment continue to increase, SMA once again provides superior technology that proves to be the clear choice for those who are looking to maximize ROI while minimizing risk."
With the Sunny Boy 5.0-US/6.0-US, SMA now offers a residential inverter with complete grid-management capabilities, ensuring a utility-compliant solution for customers operating in any market, including Hawaii and California. It is an economical solution that delivers flexible system design and shade mitigation. It can be utilized for a variety of applications including grid-connected and off-grid systems and accommodates hundreds of stringing configurations.
The Sunny Boy 5.0-US/6.0-US interfaces directly with a smartphone, tablet or notebook, thanks to its integrated Webserver and WLAN. This communication platform provides state-of-the-art monitoring via Sunny Portal for centralized system management. It is also compatible with SMA's Installation Assistant, which simplifies commissioning and reduces time and labor spent in the field. Improved, next-generation AFCI functionality offers greater sensitivity for identifying arcs as well as more accurate detection to reduce false tripping.
This inverter solution features an integrated DC disconnect that greatly reduces the costs associated with equipment stocking and order processing while speeding installation, as well as a two-part enclosure concept for expedited servicing. SMA also plans to release additional powers classes and units with an optional revenue-grade meter with cellular communication later this year.
The Sunny Boy 5.0-US/6.0-US is now available through SMA's North American distribution program. To locate an SMA Authorized Distributor, solar professionals can visit SMA America's website and click "Where to Buy" to learn more about each distribution partner.
About SMA
The SMA Group with sales of more than €800 million in 2014 is the global market leader for solar inverters, a key component of all PV plants and offers innovative key technologies for future power supply structures. It is headquartered in Niestetal, near Kassel, Germany, and is represented in 20 countries. The Group employs more than 3,500 people worldwide. SMA's broad product portfolio includes a compatible inverter for every type of module on the market and for all PV system sizes. The repeatedly awarded product range includes system technologies for grid-connected photovoltaic systems as well as off-grid and hybrid systems. The technology is protected by 740 patents and utility models worldwide. The range of services is supplemented by comprehensive services and operational management of large-scale PV power plants. Since 2008, the Group's parent company, SMA Solar Technology AG, has been listed on the Prime Standard of the Frankfurt Stock Exchange (S92) and also in the TecDAX index. www.SMA-America.com
Featured Product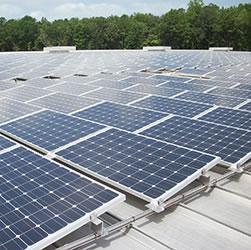 The Power Rail™ Commercial Mounting System is designed with the professional PV solar installer in mind. Both the XD/UD and LD/MD rails feature single tool assembly with the revolutionary patented RAD™ Lock-in-Place bolt for fast and secure module clamping. The high strength marine-grade aluminum rails include an integral wiring channel for securing cables and providing a professional finish.