• CG equipment will maintain overall security of electricity supply • Further recognition of CG's strong position in the offshore industry • Kriegers Flak wind farm will provide renewable energy to 600,000 households in Denmark, Sweden and Germany
Mechelen, January 12, 2016: Avantha Group Company CG has been awarded a contract from Denmark's national electricity transmission system operator Energinet.dk to provide power transformers and Gas Insulated Switchgear (GIS) for the Kriegers Flak wind farm project in the Baltic Sea.

The order consists of two onshore 500 MVA 410/235kV autotransformers (frame contract); four 220 MVA 32/225kV offshore platform substation transformers; and nine bays 220kV Gas Insulated Switchgear for the offshore platform substations. CG's equipment will maintain the overall short-term and long-term security of electricity supply from the wind farm.
Kriegers Flak will be Denmark's largest offshore wind farm project and is to be developed in close partnership with their regional neighbours Sweden and Germany. The planned 600 MW offshore wind farm will act like a 'Supergrid', transmitting renewable energy through power grids to all three countries. It will be built in the waters between Møn, Denmark, southern Sweden and north Germany and its 130 wind turbines will produce around 2.1 TWh of electricity.
The wind farm is planned to go into operation sometime between 2018 and 2020. It will help to more than double Denmark's wind power energy capacity to 42% and provide electricity to over 600,000 homes in the three countries.
CG was chosen on account of its economical & technical best evaluated bid. This is another successful track record in providing transformers and GIS to the offshore industry. The company's proven technology is already being used in other offshore platforms such as Belwind, Anholt, Butendiek, Humber Gateway, Luchterduinen, Northwind, Amrumbank and Gemini.
Commenting on the order, Avantha Group Company CG's CEO and Managing Director Mr. Laurent Demortier said: "We are delighted that our power transformers and GIS have been selected by Energinet.dk for the Kriegers Flak offshore wind farm. Our equipment will contribute to bringing renewable energy to European consumers, increasing the security of energy supply to Denmark, Sweden and Germany, and assisting these countries to further reduce their carbon emissions."
About CG
Avantha Group Company CG is a global pioneering leader in the management and application of electrical energy. With more than 10,000 employees across its operations in around 85 countries, CG provides electrical products, systems and services for utilities, power generation and industries. The company is organised into three business groups: Power, Industrial, and Automation.
For more information on CG, please visit: www.cgglobal.com
About Avantha
The Avantha Group's entities in diversified sectors include Crompton Greaves (power transmission and distribution equipment and services), BILT (paper and pulp), The Global Green Company Limited (food processing), Biltech Building Elements Limited (infrastructure), Avantha Power (energy), Avantha Business Solutions Limited (IT and ITES), Jg Glass (glass containers).
With a global footprint, the Group operates in 90 countries with more than 25,000 employees worldwide.
For more information on Avantha, please visit: www.avanthagroup.com
Featured Product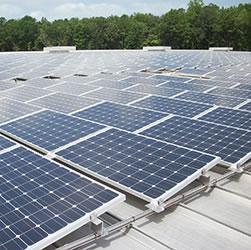 The Power Rail™ Commercial Mounting System is designed with the professional PV solar installer in mind. Both the XD/UD and LD/MD rails feature single tool assembly with the revolutionary patented RAD™ Lock-in-Place bolt for fast and secure module clamping. The high strength marine-grade aluminum rails include an integral wiring channel for securing cables and providing a professional finish.