Schneider Electric™, a global leader in solutions for the solar power conversion chain, has designated AlsoEnergy as the preferred monitoring provider to pair with their Conext™ CL series of three-phase string inverters.
Boulder, CO, USA and Burnaby, BC Canada, January 12, 2016 — Schneider Electric™, a global leader in

solutions for the solar power conversion chain, has designated AlsoEnergy as the preferred monitoring
provider to pair with their Conext™ CL series of three-phase string inverters. AlsoEnergy has been selected
for their ability to deliver the best user experience with these inverters: seamless integration of technologies,
along with proven results for overall system design, deployment, and Operations and Maintenance (O&M).
Schneider Electric relies on strong and competent partners to deliver top performance for integrated power
systems. "As a global specialist in energy management, Schneider Electric understands customers choosing
Conext CL series inverters expect reliable, high efficiency performance and increased ROI" says David
Norman, Director of Business Development for Solar Business, North America. "Recognizing the importance
of a robust monitoring solution to achieve our customers' goals, we confidently recommend AlsoEnergy as our
trusted partner to provide superior technology, support, and solar expertise."
AlsoEnergy is a leader among independent solar monitoring providers, with over 4 GW of power monitored at
more than 12,000 independent locations worldwide. "We are honored to be named as a preferred partner by a
major industry player such as Schneider Electric" says AlsoEnergy CEO Robert Schaefer. "We are particularly
pleased to work with Conext CL tier I inverters, a product line that is optimized for today's decentralized solar
power projects."
AlsoEnergy serves a wide range of solar power projects with two industry-leading software products for PV
performance evaluation (PowerTrack and DECK Monitoring). With a host of customizable display-and-analysis
options for aggregated portfolio data, AlsoEnergy solutions are a perfect fit for the large decentralized systems
that will choose the Conext CL Series. Together these technologies will help customers optimize yield and
reduce maintenance costs, so projects can achieve increased ROI.
Schneider Electric has leveraged 180 years of energy management experience to create the Conext CL
Series. Built for decentralized architecture, Conext CL inverters are the ideal solution for commercial buildings,
carports, and decentralized power plants. Optimized modular design enables faster installations and easy
scaling for systems of all sizes. Users benefit from minimal system downtime due to short replacement lead
time and ease of servicing. This line of inverters offers full grid support features and all the system capabilities
of the Schneider Electric product line. The Conext CL Series is now available in 18 kW and 20 kW for North
America. To learn more about Schneider Electric's solar products and solutions, visit http://solar.schneiderelectric.
com.
About AlsoEnergy
AlsoEnergy provides monitoring and SCADA solutions for solar PV and other energy systems. AlsoEnergy
empowers the business of renewable energy with software that clarifies the relation between system
performance and financial returns, and that streamlines asset management tasks to save time and money. As
an independent monitoring provider, AlsoEnergy is uniquely well positioned to provide fully compatible service
for diverse portfolios, and to integrate with evolving technology in the years to come. For more information,
visit: www.alsoenergy.com
Featured Product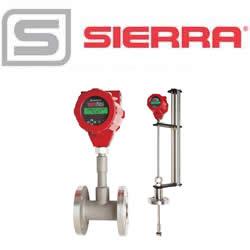 Sierra was the first to introduce a combination volumetric vortex and multivariable mass flow meter in 1997. Today, Sierra's completely redesigned InnovaMass® iSeries™ 240i/241i builds on two decades of success measuring five process variables for gas, liquid and steam with one connection. Now, with the latest hyper-fast microprocessors, robust software applications, field diagnostic and adjustment capability, and a new state-of-the-art flow calibration facility, Sierra's vortex iSeries delivers precision, performance, and application flexibility never before possible.