Pioneering Online Loan Provider Enables Solar Development for New Jersey and Massachusetts Schools and Businesses
NEW YORK, Jan. 14, 2016 /PRNewswire/ -- Open Energy, an innovative commercial solar debt finance provider, today announced the closing of a loan totaling $1.2 million to SunLight General Solar Fund III. The New York City based investment fund invests in distributed generation solar projects. The SunLight investment fund received a hybrid term and construction loan for four commercial solar projects, including a school district and a private business in New Jersey, as well as a school district and a municipality in Massachusetts.

"Open Energy has proven to be a clear leader in the commercial solar lending space," said Edouard Klehe, one of the managers of the SunLight investment fund. "The innovative online platform, combined with the team's expertise and first-rate support, has streamlined a complicated process and enabled us to fund several projects that have been in the works for a while. Open Energy has truly opened doors for us and we look forward to working together on future initiatives."
Open Energy provides developers, installers and asset owners a simplified loan application and due diligence process that is both time and cost-efficient. Additionally, by capping transaction costs, Open Energy is committed to driving down the soft costs associated with project development. Through Open Energy's marketplace lending model, institutional and accredited investors also have the opportunity to invest in high quality solar project debt with long-term, attractive risk-adjusted yields.
"Since launching our online application this past fall, we've seen an increased demand for loans to finance a range of commercial and industrial solar projects," says Graham Smith, CEO of Open Energy. "The market is ready to grow and we're incredibly excited to provide the capital to help unleash the potential in this sector."
About Open Energy
Open Energy provides innovative financing solutions to support the growth of commercial and industrial solar energy infrastructure. Open Energy's financing approach, utilizing an online marketplace to direct investment, is based on a technology-driven underwriting process. For borrowers, Open Energy offers increased access to capital and a time- and cost-efficient loan application process. For institutional and accredited investors, the strict risk methodology offered through Open Energy's proprietary online platform delivers a choice of renewable energy projects that deliver strong risk-adjusted returns. For more information about Open Energy and its loan technology process, please visit www.openenergygroup.com.
Featured Product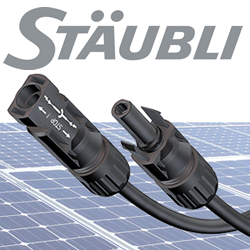 ​Stäubli Electrical Connectors are used on more than 300 GW, over 50% of the PV capacity worldwide. The MC4 family of UL and TUV listed products include connectors, in-line fuses, branch connectors, cable assembly and more.