2050 Motors, Inc. announced the arrival of the new Ibis all-carbon fiber electric sedan in the United States. The President of 2050 Motors pointed out several similarities between the Ibis and the Tesla Model S.
LAS VEGAS, NEVADA (PRWEB) January 14, 2016 - Today Michael Hu, President of 2050 Motors, Inc. (OTCQB: ETFM), announced that last week the new Ibis all-carbon fiber electric sedan arrived in the United States. The Ibis created a great deal of attention from spectators during its media photo shoot (see Ibis photo shoot pictures and 360-degree video walk-around at the new 2050 Motors' Website http://www.2050motors.com/photoshoot.html ).

Mr. Hu stated that, "I would like to clarify some of the Internet comments depicting the Ibis as an imitation of the Tesla Model S. Uninformed people have stated that the Ibis emblem is a 'knockoff' of the Tesla emblem. It's really unfortunate that the two emblems are similar, but that is where the resemblance ends. The following factors I think are more important:
"The Ibis body is built totally out of carbon fiber which is five times stronger than steel and one third the weight. The Tesla body is fabricated from punched out aluminum sheeting.
"Even though the Tesla body is made of aluminum, the Ibis is at least 800 lbs lighter which everyone knows will produce better mileage, especially in urban driving conditions.
"The next important point is that the Ibis carbon fiber body sits on a high strength extruded aluminum frame not on a sheet metal punched out aluminum frame as the Tesla."
A recent article published by Brian Murphy on January 11 titled, "2050 Motors is Going to Beat Tesla Motors to the All Important Middle Market," contains comparative pictures of both the Ibis frame and the Tesla frame. Readers should compare these pictures and decide for themselves which one looks tougher and more durable (see frame pictures here http://www.2050motors.com/photoshoot.html ).
Mr. Hu continued, "Another point is that both vehicles carry impressive battery packs. The Ibis at 72 kWh and the Tesla at 70 kWh and 85 kWh. The lighter weight of the Ibis will certainly compensate for the slightly lower energy capacity of its battery pack. Therefore, both vehicles will have a similar driving range.
"The next item is cost. Most Tesla Model S are priced over $100,000 after federal rebates. The Ibis, after federal rebates, will be $59,500. A cost that is significantly different and not something to sneeze at.
"Both cars have a variety of gadgetry based on customers' desires. However, the Tesla was the first to demonstrate to the world that an electric car can compete in every aspect with regular gasoline-powered vehicles. We acknowledge Tesla for this accomplishment. However, building an electric car that can accelerate from zero to 60 mph faster than a Ferrari, although impressive, is not what electric cars are all about, they are about the environment. Incidentally, the Ibis acceleration is comparable to most gasoline operated vehicles on the road today. Finally, let's remember that high powered electric motors used to accomplish hair raising acceleration also consume battery energy at phenomenal rates and are as unnecessary as gas powered muscle cars for the general public."
"Electric cars are being developed to reduce our dependence on foreign oil and reduce all emissions including the ones causing climate change. We believe the Ibis will capture a portion of the high-end middle market which offers all of the high-tech gadgets at an affordable price and, the e-Go will capture a portion of the lower-end middle market - both due to their carbon fiber bodies and space age aluminum frames which no other manufacturer offers."
The Brian Murphy article also states, "The Ibis as well as the e-Go are poised to move into that sweet spot of affordability and style, and could soon become the premier name in the U.S. electric vehicles market."
About 2050 Motors, Inc.
2050 Motors, Inc. ( http://www.2050motors.com and http://www.etfm.com ), is a publicly traded company incorporated in Nevada in 2012. 2050 Motors was founded to develop and produce the next generation of clean, lightweight, efficient vehicles and its associated technologies. Some of these technologies include alternative renewable fuels, hybrid electric vehicles, advanced graphene lithium batteries and carbon fiber low cost vehicles. 2050 Motors has been successful in forming long term relationships and exclusive contracts for a variety of game changing technologies. 2050 Motors entered into an agreement with Jiangsu Aoxin New Energy Automobile Co., Ltd., located in Jiangsu, China, for the distribution in the United States of a new electric automobile, known as the e-Go EV (electric vehicle). The e-Go EV is a revolutionary new concept in the ever evolving world of electric vehicles. It will be the only production line electric car with a carbon fiber body and parts manufactured by a new process using robotic machines which significantly reduces the fabrication time and cost of carbon fiber components. The e-Go EV will seat four passengers, have a long battery life, and high energy efficiency rating up to 150+ MPG-E energy equivalent in urban driving due to the light weight of the vehicle. The five passenger carbon fiber luxury sedan Ibis EV, the e-Go's big brother, will also be showcased along with the e-Go EV for future sales in the United States. See videos of completion of the e-Go EV manufacturing plant at https://www.youtube.com/watch?v=wih8_xxZNgA and the unveiling of the e-Go EV at the 2014 Shanghai Auto Show http://www.2050motors.com/shanghaishow.html . The company is fully reporting under the SEC EDGAR system.
Featured Product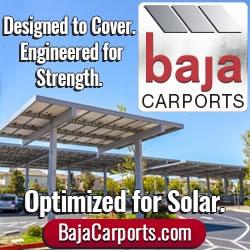 Baja Carports offers an extensive solar support system product line customized to customers' site specifications by in-house engineers, meeting their parking lot coverage, plus optimal PV production needs. Baja's Full Cantilever Tee is often paired with its Semi and Full Cantilever carports to meet live/loads up to 60psf and wind speeds to 160mph. All Baja products are pre-fabricated, bolted connections, pre-galvanized structural steel for fast on-site installation and project aesthetic requirements."