Hukseflux, a leading manufacturer of pyranometers, both in market share and technology, has launched the new SR05 pyranometer. SR05 is the most affordable digital pyranometer meeting ISO 9060 second class requirements. The pyranometer has unique features and significant benefits for installation in large networks and systems.
SR05 measures solar radiation received by a plane surface, in W/m2, from a 180 degree field of view angle. It is ideal for general solar radiation measurements in (agro-)meteorological networks and PV monitoring. The pyranometer is easy to mount and install, in particular with SR05's ball levelling mechanism. Various outputs are available, both digital and analogue, for ease of integration. Optionally SR05 has a unique ball levelling mechanism and tube mount for easy mounting and levelling on a (non-)horizontal surface or tube.

SR05 benefits:
-Industry standard digital outputs: easy implementation and servicing
-Easy mounting and levelling
-Pricing: second class pyranometers finally affordable for large networks
Contact Hukseflux to view SR05 configurations, options and pricing.
Featured Product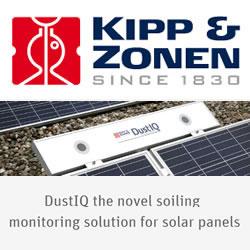 Soiling of the panel glass is one of the major problems in the rapidly expanding solar energy market, with the attendant loss of efficiency and reduction in performance ratios. Now, there's a new, simple and very cost-effective alternative. Based on Kipp & Zonen's unique Optical Soiling Measurement (OSM) technology, DustIQ can be easily added to new or existing solar arrays and integrated into plant management systems. The unit is mounted to the frame of a PV panel and does not need sunlight to operate. It continuously measures the transmission loss through glass caused by soiling, so that the reduction in light reaching the solar cells can be calculated.