Ontario manufacturer SEI provides high-yielding panels for 150 kW system which adds solar energy to farm's portfolio of crops; system installed by SEI sister company Strathcona Solar
Belleville (Ontario), January 21, 2016.—Strathcona Energy International (SEI), a North-American based manufacturer of premium-quality solar modules, and Strathcona Solar Initiatives, a multiple award-winning solar integrator, today announced the completion of a 150 kilowatt photovoltaic (PV) rooftop system at family-owned Haskett Farms in Napanee.

Alvin Haskett started farming in 1965 and quickly realized that managing energy use wisely has a huge impact on the bottom line of his operation. Since 2008, the family owns and operates Circle H Farms, which is very much a "family affair between my dad, my son, and myself," Alvin's son Greg Haskett points out. "Staying economically sustainable for such a long period of time has much to do with tuning in to what's environmentally sustainable and good for the land which we farm."
Besides smart investments in energy efficiency features, timers, and lighting, the family wanted to do more to manage their resources in a most economical way, and discovered the barn roof as one of their biggest, yet underutilized assets. Now 400 high-efficiency SEI solar modules are now soaking up the sun, and the Hasketts are selling the generated electricity back to the grid under Ontario's IESO 20-year Feed-in-Tariff (FiT).
"The solar panels allow us to add revenue to our operations by using what's already there—giving our barn roof a hole new meaning as clean power plant," Alvin Haskett smiles as he looks up to the panels. "PV is clean, safe, quiet, and good for the environment and us."
The high-efficiency SEI solar modules were manufactured at the SEI production plant in Belleville, just 30 miles (47 kilometers) west of the Haskett's farming operations and installed by SEI sister company Strathcona Solar Initiatives, keeping the carbon footprint involved in bringing the array online to a minimum.
The Hasketts plan on using the revenue from the approximately 142,500 kilowatt hours produced annually to reinvest into their operations and to increase the efficiency of their equipment. "The solar system really acts as another form of cash crop for us," comments Greg Haskett—but one that will use significantly less maintenance and care.
"It has been a privilege for us to work with the Haskett family in developing the solar solution that is most optimal for their farming operations," says Karl Hollett, the CEO of Strathcona Energy International. "The high-yielding solar system allows the Hasketts to lock in a predictable and reliable revenue stream for decades, and it's wonderful to see what a tremendous impact solar energy makes on the agricultural sector, as well as on the environment."
About Strathcona Energy International - Photovoltaics Perfected
SEI is synonymous with quality excellence, reliability and an industry-leading "Cost of Energy" proposition. A leader in PV modules SEI specializes in a robust product suite that includes market pioneering AC-PV, Bifacial PV and BI-PV (Glass-on-Glass) modules. This technological stewardship coupled with manufacturing and assembly assets throughout North America allows the company to produce high-demand and high-quality solar modules for its global sales and distribution channels to fit any installation or project all while meeting any quality or certification requirements.
About Strathcona Solar Initiatives — Full Service Solution
Strathcona Solar is an award winning full service solutions provider located in Ontario that specializes in the design, installation, and maintenance of solar initiatives. Strathcona Solar provides client specific sales, engineering, as well as operational support for solar applications from high-yielding solar trackers to rooftop and ground-mount solar, solar pumps, and solar lights. All solutions are engineered using only the highest quality components from proven global partners. Strathcona Solar Initiatives is part of the Strathcona Energy Group (SEG) which specializes in providing vertically integrated solutions for the next generation of photovoltaics.
About Strathcona Energy Group - Making Energy Together
Founded in 2009, Strathcona Energy Group (SEG) is a highly diversified holding company based in Ontario, Canada that specializes in providing vertically integrated renewable energy solutions with locations in both Canada and the United States. Its current and wholly owned participants include Strathcona Solar Initiative (SSI) and Strathcona Energy International (SEI).
Media Contact
Susanne F. Quinn, Head of Corporate Communications
Email: Susanne.Quinn@strathconaenergy.com
Phone: +1 (478) 230-3347
###
Featured Product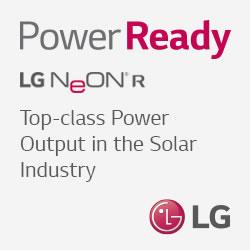 The NeON R module features "Back Contact" cell technology delivering an entirely black panel that is aesthetically pleasing and energy efficient. The cell's seamless, surface blends perfectly into nearly all rooftop designs while the module's electrodes are positioned on the rear of the cell. Using LG's N-type cell structure, the panels produce 365W of energy, up to 7.3kWp, compared to 5.8kWp of the p-type cell. The module's new design minimizes LID, thereby delivering a longer lifespan and increased energy output.