Companys fourth floating solar project, worlds largest, will be built on Japans Yamakura Dam reservoir
KYOTO, Japan--(BUSINESS WIRE)--In a joint venture, Kyocera Corporation (herein "Kyocera,") and Century Tokyo Leasing Corporation (herein "Century Tokyo Leasing") announced today that Kyocera TCL Solar LLC (herein "Kyocera TCL Solar") has started construction of the worlds largest*1 13.7 megawatt (MW) floating solar power plant on the Yamakura Dam reservoir, managed by the Public Enterprises Agency of Chiba Prefecture in Japan for industrial water services.

Scheduled for launch in FY2018 (fiscal year ending March 31, 2018), the plant will be comprised of approximately 51,000 Kyocera modules installed over a fresh water surface area of 180,000m2. The project will generate an estimated 16,170 megawatt hours (MWh) per year — enough electricity to power approximately 4,970 typical households*2 — while offsetting about 8,170 tons*3 of CO2 emissions annually. This is equal to 19,000 barrels of oil consumed*4.
The project was initiated in October 2014, when the Public Enterprises Agency of Chiba Prefecture publicly sought companies to construct and operate a floating solar power plant to help reduce environmental impact.
With the decrease in tracts of land suitable for utility-scale solar power plants in Japan due to the rapid implementation of solar power, Kyocera TCL Solar has been developing floating solar power plants since 2014, which utilize Japans abundant water surfaces of reservoirs for agricultural and flood-control purposes. The company began operation of 1.7MW and 1.2MW plants in March 2015 followed by the launch of a 2.3MW plant in June. With Kyocera Communication Systems Co., Ltd. responsible for construction and Kyocera Solar Corporation undertaking O&M (operation and maintenance) of these projects, the Kyocera Group is cultivating the technology and expertise to construct, operate and maintain floating solar power plants.
*1 Worlds largest floating solar power plant in terms of output. Claim is based on research by Kyocera TCL Solar LLC (as of January 15, 2016) of projects currently under construction and in operation.
*2 Based on average annual use of 3,254.4kWh per household. Source: Federation of Electric Power Companies of Japan (Graphical Flip-chart of Nuclear & Energy Related Topics 2015)
*3 Based on calculations derived from JPEA (Japan Photovoltaic Energy Association) standards
*4 Based on calculations derived from the United States Environmental Protection Agencys Greenhouse Gas Equivalencies Calculator
About KYOCERA
Kyocera Corporation (NYSE:KYO)(TOKYO:6971) (http://global.kyocera.com/), the parent and global headquarters of the Kyocera Group, was founded in 1959 as a producer of fine ceramics (also known as "advanced ceramics"). By combining these engineered materials with metals and integrating them with other technologies, Kyocera has become a leading supplier of solar power generating systems, mobile phones, printers, copiers, electronic components, semiconductor packages, cutting tools and industrial ceramics. During the year ended March 31, 2015, the companys net sales totaled 1.53 trillion yen (approx. USD12.7 billion). Kyocera appears on the latest listing of the "Top 100 Global Innovators" by Thomson Reuters, and is ranked #552 on Forbes magazines 2015 "Global 2000" listing of the worlds largest publicly traded companies.
About Century Tokyo Leasing
Century Tokyo Leasing Corporation (TOKYO:8439) was launched in 2009 through the merger of the former Century Leasing System, Inc. and the former Tokyo Leasing Co., Ltd. Century Tokyo Leasing is one of the leading companies in the industry, operating in four business segments, Equipment Leasing, Specialty Financing (including environmental and energy business), Automobile Financing and International Business. Century Tokyo Leasing enjoys the support of a strong line-up of shareholders, including Mizuho Financial Group and ITOCHU Corporation. As of the year ended March 31, 2015, the company's consolidated operating assets reached total of 2.9 trillion yen (approx. USD24.2 billion), and the company's market capitalization stood at 390billion yen (approx. USD3.2 billion).
Featured Product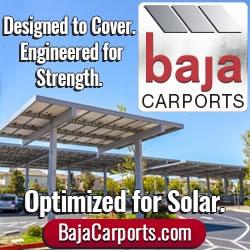 Baja Carports offers an extensive solar support system product line customized to customers' site specifications by in-house engineers, meeting their parking lot coverage, plus optimal PV production needs. Baja's Full Cantilever Tee is often paired with its Semi and Full Cantilever carports to meet live/loads up to 60psf and wind speeds to 160mph. All Baja products are pre-fabricated, bolted connections, pre-galvanized structural steel for fast on-site installation and project aesthetic requirements."