World class small-wind turbine manufacturer Gaia-Wind has sold its first turbines to Japan just weeks after establishing own local subsidiary. With an initial two turbines already in country, the local team at Gaia-Wind KK, in Tokyo, has just won a contract for a further eight machines. YBM Japan Inc. located in Ishikawa prefecture, will sell and distribute them in a value added resale operation across the country. Gaia-Wind expect to export more than 100 turbines to Japan over the next year.
Scottish Turbines to Japan: More than 100 by End 2016

Following the establishment of Gaia-Wind KK the company has built a network of resellers including YBM Japan Inc., LOOOP Inc. and the Green-Power Corporation, to deliver its world class GW133 turbine to the Japanese market. The company is also looking to develop a long term commercial relationship with others.
Gaia-Wind CEO Johnnie Andringa said:
"This contract gets our Japanese venture off to a flying start. It is we believe, the first of many. Japan has a market size 1.6 times that of the UK and the most attractive feed in tariff in the world. Our Japanese reselling partners are gearing up to help deliver what Japanese Consul General in Scotland Mr Kitaoka described as: 'The conversion from atomic power to renewable energy after the Tsunami disaster in 2011".
"We confidently expect to sell over 100 turbines into japan over 2016 and in time to achieve double that amount annually. Following the disastrous effects of botched UK support mechanisms, our export strategy will see us reducing our exposure to the UK domestic market to around 15% of our total sales. This will protect and indeed generate new jobs in a tough farm scale renewables environment."
Mr Kitaoka said:
"I was most pleased by the splendid news that GAIA Wind has succeeded in selling wind turbines to Japan. For me, especially after the tsunami in 2011, I believe Scotland is an important teacher in the promotion of renewable energy. Just like Scotland taught Japan for modernisation in the 19th Century.
"Last year I was privileged to meet CEO Mr Johnnie Andringa and together with his Japanese customers, now this has borne fruit. I sincerely hope that with this contract, this is the time for the step forward for the GAIA - Wind Turbine - which I am convinced is the worlds most advanced wind turbine".
Some 1200 Gaia-Wind turbines have now been running for a combined operational time of more than 20 million hours. That's almost 2,500 years of dependable, renewable energy generation: In Denmark, almost 100 Gaia-Wind turbines have been running for more than 10 years. These turbines have contributed more than 30,000MWhrs of green electricity, delivering "energy independence" for their owners and that much less strain on the grid.
1. For further information or photography, email m@patersoncomms.co.uk or call 07920715345 or visit Gaia-Wind.com
2. Gaia-Wind Ltd is a manufacturer of world leading, high performance Small Wind Turbines for moderate wind speed sites. Headquartered in Port Dundas, in Glasgow, the company has sold turbines throughout the UK and Europe, as well as Japan, Australia, Israel, the USA and the South Pacific. In recent years the company has won accolades as one of the fastest growing privately owned companies in the UK and for export success.
3. G-W Japan: GAIA-WIND K.K. Registered office at 3-6-8-2101 Toyosu, Koto-ku, Tokyo 135-0061, Japan.
Featured Product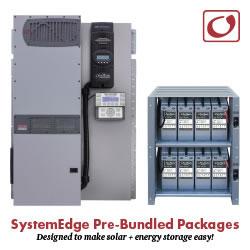 Each pre-bundled package is designed to make solar plus energy storage easy. By combining OutBack's most popular FLEXpower pre-wired systems with matched OutBack energy storage, SystemEdge takes the guesswork out of installing solar plus storage. Every SystemEdge package includes a FLEXpower factory pre-wired system, application-specific EnergyCell batteries and racking, FLEXware ICS Plus combiner and all the necessary connection hardware.