With global variation in policies, wind energy industry manufacturers and developers must be flexible in order to thrive, report finds
BOULDER, Colo.--(BUSINESS WIRE)--A new report from Navigant Research analyzes wind energy development policies in 42 countries, with rankings for current policy stability, past performance, sector potential, and economic forecasts.

As the cost of wind energy plunges due to technological improvements and efficiencies of scale, many governments are exploring market-oriented policy options that decrease costs for supporting governments, ratepayers, and other stakeholders. Within this changing environment, wind growth in some of the countries with the most installed wind power capacity has stalled while others are warming up for further expansion. Click to tweet: According to a new report from Navigant Research, China is ranked a booming market for wind capacity growth.
"Perhaps the most important insight from this analysis is a move toward lower but stable growth rates," says Roberto Rodriguez Labastida, senior research analyst with Navigant Research. "While the mix of countries seeking to grow wind capacity continues to expand, today, only China is ranked by Navigant Research as Booming, while the United States, India, and Germany are categorized as Outperformers, and 21 and 17 countries, respectively, are classified as Growing or Stalled."
The increased depth of the global wind energy market is expected to provide the industry some stability, as it will be less dependent on the policy of individual countries, according to the report. However, resulting market fragmentation means that manufacturers and developers must be flexible, adapting their skills to work in different environments, in order to thrive.
The report, Global Wind Energy Policy Update, examines the strengths and weaknesses of the wind policy regimes across 42 countries based on an analysis of key policy, economic, and structural factors. Countries are rated on four criteria: policy stability, past performance, sector potential, and economic forecast. Each country covered in this report is also ranked across four categories of attractiveness to investors: Booming, Outperformers, Growing, or Stalled. An Executive Summary of the report is available for free download on the Navigant Research website.
About Navigant Research
Navigant Research, the dedicated research arm of Navigant, provides market research and benchmarking services for rapidly changing and often highly regulated industries. In the energy sector, Navigant Research focuses on in-depth analysis and reporting about global clean technology markets. The teams research methodology combines supply-side industry analysis, end-user primary research and demand assessment, and deep examination of technology trends to provide a comprehensive view of the Energy Technologies, Utility Transformations, Transportation Efficiencies, and Buildings Innovations sectors. Additional information about Navigant Research can be found at www.navigantresearch.com.
About Navigant
Navigant, Inc. is a specialized, global professional services firm that helps clients take control of their future. Navigants professionals apply deep industry knowledge, substantive technical expertise, and an enterprising approach to help clients build, manage and/or protect their business interests. With a focus on industries and clients facing transformational change and significant regulatory or legal pressures, the Firm primarily serves clients in the healthcare, energy and financial services sectors. Across our range of advisory, consulting, outsourcing, and technology/analytics services, Navigants practitioners bring sharp insight that pinpoints opportunities and delivers powerful results. More information about Navigant can be found at navigant.com.
Featured Product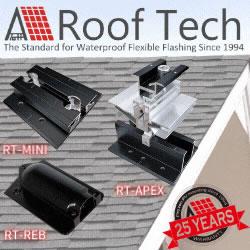 Now Roof Tech brings you the most innovative, watertight mounting systems ever developed for solar photovoltaic systems. Designed and manufactured exclusively for us by Japan's longtime leader in roofing technologies, Roof Tech products are 100% code-compliant and offer fast, simple installation and huge savings on shipping costs due to their compact, rail-less design. Learn more about our full line of versatile PV mounting solutions now available for residential installations. The next generation in rooftop solar mounting solutions."