Lithium-ion Energy Storage System (ESS) powers lighting and Wi-Fi for historic public square. • Intensium® Max 20E energy battery container combined with solar panels. • First photovoltaic plant developed in Haitï is model for other island grids.
Paris, January 25th, 2016 - Saft, the worlds leading designer and manufacturer of high-tech industrial batteries, has delivered an advanced Lithium-ion Energy Storage System (ESS) to power lighting and Wi-Fi for the Champ de Mars, the grand public square in Port-au-Prince, Haïti. The contract with Montreal-based Geninov Group, a diversified energy and engineering technology company, was finalized in May 2016.

The Champ de Mars is the largest recreational park in Haïti. The Saft ESS, to be installed in the vicinity of the Triumphe Cultural Centre in conjunction with approximately 110kW of solar panels, is comprised of one Intensium® Max 20E energy battery container. The configuration is designed to collect power during sunlight hours and to illuminate the entire park area at night while providing Wi-Fi coverage in the immediate vicinity.
"We are extremely pleased to work with Saft to provide a critical service to the city of Port-au-Prince and the Haïtian people," said Yves Marthone, Chief Operating Officer of Geninov. "Renewable energy technology is one of the most important areas of development for small power networks in remote locations, and we are confident that this project will have an immediate positive impact."
The so-called "Triumphe" project is the first photovoltaic plant developed in Haïti. The power conversion system was supplied by U.S.-based Princeton Power Systems, a global energy technology company serving customers across North America, Europe, Africa and the Caribbean. With an installed capacity of 100kWp designed to match a daily demand of 200 kWh per day, the Triumphe project will provide an assessment for the potential of similar applications supporting renewable energy in Haïti.
The 20-foot Saft Intensium® Max 20E container provides high energy capacity for daytime charging, evening discharge, back-up power and energy shifting. The Champ de Mars installation is indicative of the demand for high-quality lithium-ion battery storage systems for island grids throughout the Caribbean to support the integration of renewable energy and increase network resiliency.
"Saft is recognized as a leader in providing specialized energy storage solutions for power networks such as those found in island locations around the world," said Glen Bowling, Transportation, Telecom & Grid S.V.P Sales at Saft. "The Triumphe project is a further innovative collaboration that will likely lead to similar other installations in the Caribbean and beyond."
Geninov, a diversified energy, engineering and technology company headquartered in Montreal, Canada and with office in Port-au-Prince, Haïti has developed a network of partner companies to operate in North America, Latin America, Africa and the West Indies, and selected Saft in part for its market reputation and its ability to help win the confidence of the Energy Bureau of the Haïtian government and the World Bank which was involved in financing the project.
About Saft
Saft (Euronext: Saft) is a world leading designer and manufacturer of advanced technology batteries for industry. The Group is the worlds leading manufacturer of nickel batteries and primary lithium batteries for the industrial infrastructure and processes, transportation, civil and military electronics markets. Saft is the world leader in space and defense batteries with its Li-ion technologies which are also deployed in the energy storage, transportation and telecommunication network markets. More than 4,000 employees in 18 countries, 14 manufacturing sites and an extensive sales network all contribute to accelerating the Groups growth for the future.
Featured Product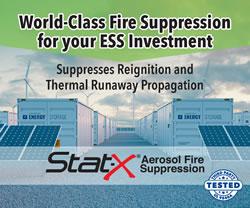 Stat-X® condensed aerosol fire suppression is a solution for energy storage systems (ESS) and battery energy storage systems (BESS) applications. Our Stat-X condensed aerosol fire extinguishing product was tested for efficacy in suppressing li-ion battery fires. It was found that the product successfully extinguished single and double cell battery fires. This testing was conducted in parallel with a large battery fire testing program on behalf of a large energy storage company.