Optimizing solar panel output with a Hydrophilic/Anti-Static Coating
The glass on solar panels needs to be kept clean for optimal performance. In the past, that typically took time, labor, energy and often-scarce water to manually clean each panel. And, depending upon their location, it isn't always easy to clean solar panels.

Perma-Clean Solar is a self-cleaning anti-static coating for solar panels. This coating prevents dust and other pollutants from contaminating a glass surface thereby enabling solar panels to maintain performance while also reducing maintenance cycles. Perma-Clean Solar is easily applied and dries in seconds, providing a protective layer that will not alter the appearance of the panel and will increase efficiency by
keeping the panels clean.
The benefits of using Perma-Clean Solar
- Strong hydrophilic properties
- Anti-Static
- Self-Cleaning
- Transparent
- Weather Resistant
- A High Degree of Hardness
- Cures at Room Temperature
- Strong adhesion to a surface
- Lasts for years
- 100 Nanometer thickness
About DryWired
DryWired is an award-winning Los Angeles based clean tech firm that distributes advanced surface nanotechnologies globally. DryWired's mission is to harness nanotechnology as a catalyst for change. Their eco-friendly protective thin-film coatings make buildings more energy efficient, surfaces cleaner, lessen e-waste and reduce city air pollution. The company is committed to solving global challenges through scientific partnerships with private laboratories and leading universities. For more information please visit: https://drywired.com/defense-perma-clean-solar/.
Featured Product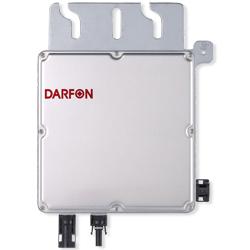 The Darfon G320 is the microinverter solution for today's high-power solar modules. The G320 handles 60- and 72-cell modules up to 350W DC and outputs up to 300W AC. The G320's 3-phase configuration accommodates the electrical distribution systems of most commercial buildings and to reduce, if not eliminate, the need for expensive transformers. The G320 comes in four voltage/phase configurations, so it can be installed in residential, commercial or utility applications.