The second place of the RenewableUK's Energy Health and Safety Award 2016 went to the Independent Service Provider Deutsche Windtechnik Ltd.
Edinburgh/Birmingham/Bremen, 29.01.2016. The second place of the RenewableUK's Energy Health and Safety Award 2016 went to the Independent Service Provider Deutsche Windtechnik Ltd. in recognition of their innovative Reporting App "NCCAPA" (Non Conformity, Corrective Action, Preventative Action). The announcement was made on the eve of RenewableUK's annual Health and Safety Conference, which took place yesterday in Birmingham, the UK's premier health and safety event for the wind, wave and tidal energy sector.

"We are proud and excited to announce that our health and safety project known as NCCAPA has finished runner-up. We are all the more delighted to achieve this over our completion after only six months in the UK marketplace. That are great news for Deutsche Windtechnik and the industry, to see projects like this enhancing health and safety culture", says Steven King, QHSE Coordinator of Deutsche Windtechnik Ltd. With the runner-up Deutsche Windtechnik Ltd. prevailed after over larger competitors such as Siemens and Nordex Risktec, whose HSE projects were also among the eight finalists. The award aims to promote the development, implementation and sharing of best practice in health and safety across the sector. It's the only award scheme of its kind for the renewable energy industry.
NCCAPA Means a New HSE Approach
Deutsche Windtechnik wanted a new system that gets away from the traditional hazard reporting and paper based card systems. With the advantages of hand-held technology available, the company started to develop an app based reporting tool. The idea was to identify the root cause of hazards before they became hazards and in turn empower a more proactive health and safety culture within the field staff. "We wanted our technicians to identify non-conformities in the field before they change and possibly evolve into hazards. With NCCAPA we can then apply corrective and preventative actions to them at the time they are discovered, again reducing the risk", explains Steven King.
Key Impact: Culture Shift in Living HSE
The project NCCAPA is realised in the form of an in-house app installed on all of the technicians smartphones. "As a result of rolling out this app to the workforce we have seen a huge change in the culture within the company: The NCCAPA, that allows the field staff to send in a report in real time from their work site from their phones, has been embraced by 100% of the workforce", reports Steve King. The other European divisions of Deutsche Windtechnik have viewed this project with great interest and are now considering using it for themselves. Moreover customers and suppliers have expressed a great interest and satisfaction in the project: "All reports generated that are relevant to them are sent to them for their own records", explains Steven King. Additionally there is the possibility to drill down to each turbine and report on the non-conformities for the month/year and even the different types of observation to identify potential underlying problems that themselves represent a hazard. This contributes continually to quality management processes.
Featured Product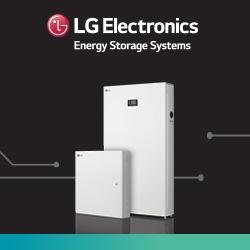 LG Solar is transforming today's solar landscape, offering precision-manufactured and high-efficiency solar panels for homeowners who demand high performance, reliability and consistently strong energy yield from a brand they can trust. LG modules feature outstanding durability, appealing aesthetics and high-efficiency technology, backed by a limited 25-year product, performance and labor (up to $450) warranty. Homeowners who purchase LG Solar modules know they're protected by a diversified global brand.