Company sees storage as key component in next phase of solar-industry growth
HILLSBORO, Ore.--(BUSINESS WIRE)--SolarWorld, the largest U.S. crystalline-silicon solar manufacturer for more than 40 years, today announced that it is broadening its role in the smart energy-storage business in the U.S. market, signaling its resolve to empower customers with a storage option as part of complete energy-management systems.

SolarWorld is partnering with sonnen Inc., which today officially opened its headquarters in Los Angeles, to provide a fully integrated solar-plus-storage product using the sonnenBatterie eco intelligent energy-storage system for customers of PetersenDean, the nations largest residential roofing company and a strategic partner of SolarWorld.
"Solar has seen tremendous growth over the past decade in the U.S. market, and all signs point to continued growth," said Ardes Johnson, SolarWorlds U.S. vice president for sales and marketing. "Energy storage stands at the beginning stages of adoption, and with companies like sonnen driving technology, we see this market achieving a similar growth trajectory as solar. SolarWorlds goal is to apply our industry-leading experience in bringing new technologies and innovative solutions to our partner network."
With minimal balance-of-system costs, sonnen designs and manufactures its residential and commercial systems to be used in backup or stand-alone applications and installed quickly and inexpensively. The systems provide such features as remote energy management, peak-shaving, full-home backup, smart-home integration and grid-services features.
"We are focused on the growth of clean, reliable and affordable energy for all. Our partnership with SolarWorld to offer an integrated solar-plus-storage product to PetersenDean customers nationwide is an important step in realizing this goal," said Boris von Bormann, U.S. CEO of sonnen. "Our proven storage technology, developed and manufactured in the U.S., empowers customers to become energy-independent and to manage their self-produced energy."
Erin Clark, president of PetersenDeans fast-growing solar division, said sonnenBatteries fit well within the companys Solar4America campaign, which taps American products and labor in spreading solar across the nations rooftops.
"Theyre right in our swim lane," Clark said. "We are all resolved to offer complete solar solutions that include and promote the arrival of storage. We, SolarWorld and sonnen are all best-in-class operators and employers right here on U.S. soil."
About SolarWorld REAL VALUE: SolarWorld manufactures and sells high-tech solar power solutions and, in doing so, contributes to a cleaner energy supply worldwide. The group, headquartered in Bonn, Germany, employs about 3,800 people and carries out production in Freiberg, Germany; Arnstadt, Germany; and Hillsboro, Oregon, USA. From raw material silicon to solar wafers, cells and modules, SolarWorld manages all stages of production ‒ including its own research and development. Through an international distribution network with locations in the United States, Europe, Singapore, Japan and South Africa, SolarWorld supplies customers all over the world. The company maintains high social standards at all locations across the globe, and it has committed itself to resource- and energy-efficient production. SolarWorld was founded in 1998 and has been publicly traded on the stock market since 1999. Connect with SolarWorld on Facebook, Twitter and www.solarworld.com.
Featured Product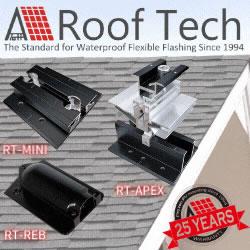 Now Roof Tech brings you the most innovative, watertight mounting systems ever developed for solar photovoltaic systems. Designed and manufactured exclusively for us by Japan's longtime leader in roofing technologies, Roof Tech products are 100% code-compliant and offer fast, simple installation and huge savings on shipping costs due to their compact, rail-less design. Learn more about our full line of versatile PV mounting solutions now available for residential installations. The next generation in rooftop solar mounting solutions."