Energy Excelerator, a global energy advancement leader, adds innovator SheerWind as a 2016 cohort.
MINNEAPOLIS, Feb. 2, 2016 /PRNewswire/ -- SheerWind, a Minnesota USA based wind-power innovator, was chosen and vetted from over 300 applicants across the U.S. SheerWind is among 14 to represent some of the most promising cleantech companies in the field. To help Hawaii with its aggressive goal of transition to 100% renewable energy by 2045, Energy Excelerator takes a systems approach, including companies from renewable energy to cyber security.

SheerWind's technology is a cost-effective, high-performance alternative to conventional wind technology. By capturing, concentrating, accelerating, and harvesting wind power in a funnel system called INVELOX (for INcreased VELocity). The multi-patented technology turns traditional wind power systems upside down by using a funnel to collect wind, channeling that wind to increase its speed, and then delivering it efficiently to multiple turbines safely housed on the ground. This means wind energy can be produced from record low wind speeds of 2 meters per second in locations close to consumers—even on rooftops in urban areas—eliminating complex power and grid systems. Shrinking the turbine blades by 89%, eliminating complex mechanical systems, and harvesting power at ground level all equate to cost savings, environmental safety, and profitable output.
"SheerWind is Energy Excelerator's first wind company," says Dawn Lippert, Director and Co-founder of Energy Excelerator. "We're betting on SheerWind because their bird-friendly, inexpensive, and easy-to-install technology has the potential to scale successfully in Hawaii and other markets."
To date, Energy Excelerator has awarded $15M to 43 portfolio companies that address critical problems in Hawaii and the Asia Pacific. Portfolio companies have gone on to raise $223M in follow-on funding and scale their Energy Excelerator demonstration projects to larger markets. Energy Excelerator's dual-track program is primarily funded by U.S. Office of Naval Research, U.S. Department of Energy, the State of Hawaii, and its corporate sponsors, GE Ventures, Hawaiian Electric Industries, Blackstone Charitable Foundation, DENSO, and Mathworks.
"SheerWind is pleased to have been selected by Energy Excelerator. They have already been a great catalyst for connecting with potential partners and investors," said Mark Borman, the CFO of SheerWind. "We look forward to the benefits the Energy Excelerator program and its network provide in the months to come."
About SheerWind: Founded in 2010 in Chaska, MN, SheerWind is the developer & licensor of INVELOX wind funnel technology, an innovative wind power generation system that significantly outperforms traditional wind turbines. SheerWind is poised to turn wind power into a major power source for the globe. For more see: sheerwind or SW facebook
Featured Product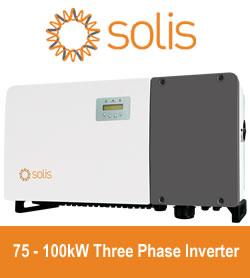 Solis75kW - 100kW series high-power string inverters are widely used in industrial and commercial rooftops. Solis's new three-phase string inverter is the first choice for industrial and commercial photovoltaics. 75-100kW three phase series string inverter have Maximum 28 strings input, support "Y" type connection in DC side. Maximum string input current 13A, support bifacial modules access.Supports anti-PID function to improve system efficiency.