LeClairRyan energy advisor Roy Palk encourages utilities to 'get ahead' of the solar trend by leasing customers' rooftops to install utility-owned solar panels.
Imposing fees on those who install solar panels might make sense in the short term, but over the long haul this tactic could undermine utilities' critical relationships with their residential and commercial customers, cautions Roy M. Palk, Senior Energy Advisor for national law firm LeClairRyan, in a Feb. 9 blog post for EnergyCentral.com.

A better approach, the attorney writes, would be to embrace the trend toward solar by promoting arrangements in which utilities lease customers' rooftops to install utility-owned solar panels. "By leasing the customer's rooftop, the utility actually enhances its ties to the customer," Palk writes. "The utility can say 'We're not just a power provider anymore; we lease part of your roof.'"
In the column ("How rooftop solar is changing the utility-customer relationship"), the veteran energy attorney and former utility CEO notes that imposing flat fees on solar users tends to draw fire in the media and among activists even as it frustrates customers who want to leverage the technology. "That would be fine if new competitors were unable to jump into the marketplace," Palk writes, "but quite the opposite happens to be true."
Indeed, if utilities fail to "get ahead" of the demand for rooftop solar, their hungry, third-party competitors will be more than happy to take the lead, Palk explains. "Of course, if the customer goes off the grid entirely, the utility also loses that long-term relationship," he writes. "Leasing deals, by contrast, actually preserve and strengthen the utility-customer relationship."
In the column, Palk describes some of the new sources of competition in today's increasingly diverse energy industry, including so-called retail electric providers, which function a lot like utilities but without the need to generate power. "These entities do nothing but broker power from various sources—solar, wind and natural gas included—and develop customer bases," Palk writes. "They represent serious competition for conventional utilities."
Meanwhile, commercial operators with millions of square feet of rooftop space are also getting more interested in alternative approaches to energy-generation. The likes of Walmart, Costco, Kohl's, Apple and IKEA, to name a few, are leading adopters of rooftop solar, Palk notes. Since utilities are already creating large solar farms in rural areas, their next step might just be to lease large rooftops—some can be up to 1 million square feet in total area—in commercial or industrial districts, Palk writes.
With time, the proliferation of competition in the energy sector, along with evolutions in micro-grid technology, energy storage and solar panel efficiency, will likely make rooftop arrays cheaper and easier to install for both commercial and residential customers alike, Palk writes. The attorney suggests that utilities follow the lead of U.S. retailing by embracing consumer choice: "Across the retail sector, the best chains have learned to embrace 'omnichannel' approaches," he writes. "Rather than simply sell goods in a store, they now leverage a wide variety of channels." Utilities, in other words, could give their customer a wide range of energy options, from leasing their rooftops, to buying into community solar gardens and more.
Getting involved now can also help utilities protect the integrity of the grid, Palk writes, because this gives them more knowledge and input about its evolution. "With the U.S. energy model drastically changing, being an integral part of those changes is a better way to regulate the quality of service you provide," the attorney writes in the conclusion to the piece. "Ultimately, this will help you build even stronger relationships with your customers and investors."
The full article is available at:
http://www.energycentral.com/generationstorage/solar/articles/3351/How-rooftop-solar-is-changing-the-utility-customer-relationship
About LeClairRyan
As a trusted advisor, LeClairRyan provides business counsel and client representation in corporate law and litigation. In this role, the firm applies its knowledge, insight and skill to help clients achieve their business objectives while managing and minimizing their legal risks, difficulties and expenses. With offices in California, Colorado, Connecticut, Delaware, Georgia, Maryland, Massachusetts, Michigan, Nevada, New Jersey, New York, Pennsylvania, Texas, Virginia and Washington, D.C., the firm has approximately 380 attorneys representing a wide variety of clients throughout the nation. For more information about LeClairRyan, visit http://www.leclairryan.com.
Featured Product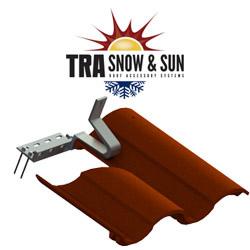 You haven't installed a tile mount that is easier to install than the Solar Tile Mount manufactured by TRA Snow and Sun. Solar Tile Mount is used on all tile roof profiles: flat, mid, and high. It is made in the USA of aluminum alloy for strength and excellent corrosion resistance. Solar Tile Mount is built to allow more ease in installation with more rise from the tile surface to the rail for better air flow below panels. The adjustable base is longer than most allowing attachment 6" to the left or right to have the bracket in the base of the pan of the tile and still fasten to the rafter. Solar Tile Mount is adjustable for counter batten systems from ¾" to 3". The horizontal rail is directly above base fasteners giving greater uplift resistance than any other system. For superior waterproofing apply TRA Snow and Sun's butyl backed VersaFlash aluminum flashing. No tile flashing is needed on top of the tile for greater labor and material cost savings.