International electrical manufacturing exhibition CWIEME Berlin is once more offering students from around the world a chance to present their work to a live audience of industry professionals and win a 1,000 Euro prize in the 2016 CWIEME Challenge.
CWIEME Challenge - an initiative to find and reward the most innovative electrical design and engineering projects from university students around the world - is back for 2016. The competition, first run last year, aims to support students in increasing their commercial awareness and network with businesses looking to recruit talented engineers, enter into new research partnerships or simply to understand the direction of current academia.

The competition is open to undergraduate and postgraduate students of any nationality and at any stage of their university career, as long as they are aged 18 or over. Projects entered should aim to improve the efficiency and effectiveness of electrical systems or components, whether through innovative design, material development or advancement, or application methods - and demonstrate ingenuity, technical innovation and the potential of young engineers to have an impact on industry.
Potential topics include (but are not limited to) e-mobility, renewable and smart grid technology, automation and robotics, alternative drive technologies such as variable frequency drives (VFDs), use of permanent magnets and the greening of technology.
The deadline for entry is Friday 4th March 2016. At the end of March five finalists will be invited to travel to Berlin in Germany (travel and accommodation paid) to present their projects - first in an informal poster zone and then in front of a live audience on Wednesday 11th May at the CWIEME Berlin exhibition. The winner will be chosen by a panel of industry experts and receive a grand prize of €1,000 in travel vouchers.
Last years winner Sheng Yuan from the University of Liverpool in the UK says: "The CWIEME Challenge really boosted my confidence in talking about my project - in front of a large audience, with industry leaders, and in job interviews - and was helpful in understanding what the market is like. I made lots of useful contacts - I was even invited again to speak again at CWIEME Chicago - of course, having awards on your CV is a real plus. CWIEME Challenge is a very good platform for young engineers and I would encourage anyone thinking of entering to go for it!"
Full terms and conditions, as well as information on how to enter, are available on the CWIEME Berlin website. Those interested can also follow and tweet the official CWIEME Challenge Twitter account @CWIEMEChallenge.
CWIEME Berlin - taking place 10-12th May at the Messe Berlin - brings together international visitors from across the transformer, electric motor and generator industries, working in sectors as diverse as power and energy (including renewables), automotive, consumer electronics, industrial machinery, military and aerospace. Its 750 exhibitors include global brands 3M, ABB, Alstom, ArcelorMittal, Shell and ThyssenKrupp. Nowhere else in the electrical manufacturing world will there be so many cutting-edge and influential individuals under one roof this year.
Featured Product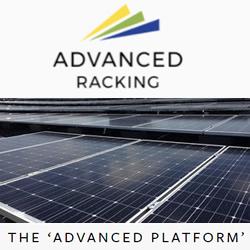 The 'Advanced Platform' simplifies the installation process by using universal mounting hardware that works perfectly across all roof types. Smart roof connection kits then connect to the specific roof's surface. The Advanced Platform is versatile: Our common design can be your single solution for all roof types.