The innovative storage-enabled system will ship in North America starting in Q2.
Pika Energy, Inc. will begin shipping its new Pika Energy Island systems in Q2 of 2016, the Maine-based power electronics firm announced Wednesday at the Solar Power PV Conference & Expo in Boston.

The Pika Energy Island is a system for connecting solar photovoltaic generation with advanced or conventional energy storage options. Using the 7.6kW bi-directional Pika Islanding Inverter™ and Pika PV Link™ DC optimizers, the Pika Energy Island powers critical loads with no grid available, providing a flexible, simple option for providing residential and commercial customers with a solar-plus-storage system. The Pika Islanding Inverter has a set of easy-to-use operational modes to enable applications like clean backup power, self consumption and energy arbitrage, so each customers system can be quickly optimized for various applications. The Pika Islanding Inverter integrates with high voltage lithium ion batteries and conventional 48V batteries, and can dynamically generate either 240VAC single-phase or 208V three-phase power.
"The availability of our newest bi-directional inverter comes at a critical time in the solar PV and distributed energy industry," said Pika Energy President Ben Polito. "Solar-plus-storage is poised for significant growth, and the Pika Energy Island is the simple, cost-effective, highly efficient, and feature-rich solution the market demands."
Unlike other storage-enabled solutions, the Pika Energy Island does not require a separate autotransformer to achieve 120/240V islanding, and does not require a separate storage interface for integrating high voltage battery storage. Pika PV Link DC optimizers provide maximum powerpoint tracking at the sub-array level, offering a simpler, faster-installing alternative to module-level power electronics. Pika PV Link is Rapid Shutdown compliant and provides arc fault and ground fault protection.
The Pika Energy Island is powered by REbus™, Pika Energys patented 380VDC power electronics platform that sends power transmission, control and embedded performance monitoring data all on the same wire. Using a set of voltage curves, REbus signals every pre-programmed Pika Energy Island device with information about when to draw power from the bus, store power, or push power to the bus. The result is a virtually plug-and-play configuration for distributed energy systems that uses fewer installed parts than other currently available systems.
"Were excited to offer solar PV installers a simple, flexible solution for solar-plus-storage," said Pika Energy Chief Technology Officer Joshua Kaufman. "With its embedded intelligence and power control, REbus presents the Energy Island with many inherent advantages over other solar-plus-storage configurations."
Pika Energy works with a network of installer partners to offer its solutions to residential and commercial end-users. The Pika Energy Island will immediately provide Pika Energys partners with an optimal inverter solution for all solar-plus-storage applications, including backup power, energy arbitrage, self-consumption and more.
For more information about the Pika Energy Island and to connect with a local sales representative, please contact Pika Energy.
About Pika Energy
Pika Energy, Inc. is a U.S.-based manufacturer of direct current (DC) power electronics. Headquartered in Westbrook, Maine, Pika Energys products include bidirectional, islanding inverters, battery charge controllers, DC solar optimizers, power converters, and certified small wind turbines. All Pika Energy products are powered by the REbus™ DC nanogrid. Pika Energys products provide grid-optional clean power that enables buildings to collect, store and self-consume energy from solar and wind sources. Learn more at http://www.pika-energy.com.
Featured Product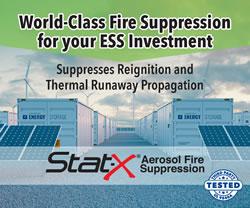 Stat-X® condensed aerosol fire suppression is a solution for energy storage systems (ESS) and battery energy storage systems (BESS) applications. Our Stat-X condensed aerosol fire extinguishing product was tested for efficacy in suppressing li-ion battery fires. It was found that the product successfully extinguished single and double cell battery fires. This testing was conducted in parallel with a large battery fire testing program on behalf of a large energy storage company.