Visionary 'future of mobility concept Unveiled by Nissan Europe and Foster + Partners
GENEVA--(BUSINESS WIRE)--Nissan has today revealed an exciting glimpse into the future - with the first look at its fully connected vision of the future of mobility in association with renowned architects, Foster + Partners.

"Weve been at the forefront of zero emission technology since 2010, but our vision does not stop there - we believe that the future of transportation is reliant on both infrastructure and the environment. Were looking for real, workable solutions that go beyond the product."
Tweet this
The landmark partnership, between the manufacturers of the worlds best-selling 100 percent electric vehicle and the leading design studio, concluded that the fuel station of the future could actually be the car itself.
Illustrated in a stunning two minute video, featuring the best-selling Nissan LEAF and futuristic IDS Concept, Nissans visionary concept explores how our way of living might change as technology develops.
The collaboration, which concludes a 12-month partnership, offers a snapshot of whats to come from Nissans vision for Intelligent Mobility; a world in which cars interact with their environment as populations adopt zero emission, Piloted Drive technologies.
The design study is being previewed at this years 86th International Motor Show in Geneva.
Paul Willcox, Chairman, Nissan Europe, said: "Technology holds many of the answers for the challenges we face in our cities today. However, the true power comes when those technologies are integrated with each other and the world around us.
"Weve been at the forefront of zero emission technology since 2010, but our vision does not stop there - we believe that the future of transportation is reliant on both infrastructure and the environment. Were looking for real, workable solutions that go beyond the product."
Incorporating a range of pioneering Nissan technologies, the vision hints at how vehicle-to-grid, battery storage, wireless charging, autonomous drive technology and over-the-air connectivity could combine to revolutionise how energy is used and distributed across Europes major cities.
David Nelson, Co-Head of Design, Foster + Partners, added: "Integrating zero emission technologies into the built environment is vital in creating smarter, more sustainable cities. That commitment must extend far beyond the car - it must sit at the heart of everything we do."
The need for a sustainable and innovative refuelling network is becoming vital as the market shifts toward alternative sources like electric power.
Today, more than half (54%) of the worlds population lives in cities and by 2050, seven out of every 10 people will live in urban areas[i], so it is imperative that the infrastructure exists to support this growth.
Nissan is currently trialing an innovative vehicle-to-grid system in Europe which, when coupled with advances in its second-life batteries, will allow drivers to operate as individual 'energy hubs able to store, use or return clean energy to the grid.
It is predicted that by 2050, almost all global energy needs can be met with renewable energy sources[ii].
Nissan is the leader in zero emission technology, and pioneered the commercial electric vehicle market in 2010. The Nissan LEAF - the first mass-market, pure EV launched globally - continues to be the best-selling EV in history.
For more information about Nissan products, services and the brands commitment to sustainable mobility, visit www.nissan.eu/experience-nissan.html
About Nissan in Europe
Nissan has one of the most comprehensive European presences of any overseas manufacturer, employing more than 17,600 staff across locally-based design, research & development, manufacturing, logistics and sales & marketing operations. Last calendar year Nissan plants in the UK, Spain and Russia produced more than 675,000 vehicles including award-winning crossovers, small cars, SUVs, commercial vehicles and electric vehicles, including the Nissan LEAF, the world's most popular electric vehicle with 97% of customers willing to recommend the car to friends. Nissan now offers a strong line-up of 23 diverse and innovative models in Europe under the Nissan and Datsun brands.
Foster + Partners
Foster + Partners is an international studio for architecture, engineering and design, led by Founder and Chairman Norman Foster and a Partnership Board. Founded in 1967, the practice is characterized by its integrated approach to design, bringing together the depth of resources required to take on some of the most complex projects in the world. Over the past five decades the practice has pioneered a sustainable approach to architecture through a strikingly wide range of work, from urban masterplans, public infrastructure, airports, civic and cultural buildings, offices and workplaces to private houses and product design. The studio has established an international reputation with buildings such as the worlds largest airport terminal at Beijing, Swiss Res London Headquarters, Hearst Headquarters in New York, Millau Viaduct in France, the German Parliament in the Reichstag, Berlin, The Great Court at Londons British Museum, Headquarters for HSBC in Hong Kong and London, and Commerzbank Headquarters in Frankfurt.
Featured Product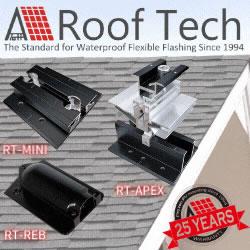 Now Roof Tech brings you the most innovative, watertight mounting systems ever developed for solar photovoltaic systems. Designed and manufactured exclusively for us by Japan's longtime leader in roofing technologies, Roof Tech products are 100% code-compliant and offer fast, simple installation and huge savings on shipping costs due to their compact, rail-less design. Learn more about our full line of versatile PV mounting solutions now available for residential installations. The next generation in rooftop solar mounting solutions."