Current invention is related to a vertical axis wind energy transformation system with blades having cell structure in order to convert wind energy into mechanical energy.
The in
vention is about especially blades having cell structure that is in contact with wind power and can open and close according to the direction of the wind, a switch mechanism that allows these cell structures to open and close and a mechanism and method containing an apparatus for determining the direction to put this switch mechanism in an appropriate position according to the direction of the wind.
Featured Product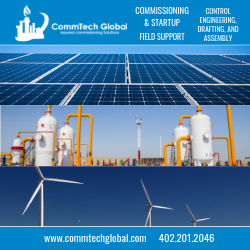 CommTech Global Solutions, LLC, provides professional and reliable commissioning services to customers in all realms of the energy industry. We blend our skills in engineering and technology with innovative business models, offering a complete range of services to assist you for a successful and in compliance operational startup. Consolidation of all our service domains gives our clients a comprehensive set of expertise and far-reaching experience on each project.