• Company Sees Continued Strength in North American Renewable Energy Market • Extension of the PTC through 2019 Drives Demand for AMSCs D-VAR® STATCOM Product in the United States
DEVENS, Mass., March 07, 2016 (GLOBE NEWSWIRE) -- AMSC (NASDAQ:AMSC), a global energy solutions provider serving wind and power grid industry leaders, today announced four new D-VAR® STATCOM system orders valued at approximately $10 million. All four orders are in the Companys core market of North America serving the renewable energy sector. The systems will be used to connect wind power plants to the electric grid as well as to provide voltage regulation that will respond dynamically to varying load conditions. Revenue from these four D-VAR® orders is expected to be recognized over the next four quarters.

AMSCs D-VAR interconnection and reactive power compensation solutions ensure high network performance and stability. The system is a powerful, cost-effective way to provide continuous voltage regulation, improve voltage stability, meet interconnection requirements and dynamically provide grid support where its needed.
"Revenues from our D-VAR product were very strong in the third quarter of fiscal 2015, and represented our strongest quarter for D-VAR shipments in nearly 3 years," said Daniel P. McGahn, President and CEO, AMSC. "Our momentum continues with these recent orders in the North American renewable energy market and demonstrates the strength of our solutions and relationships with wind farm developers in this key market. We believe the recent extension of the production tax credit (PTC) through 2019 is driving continued demand for our systems in the United States."
Customers utilize AMSC's D-VAR solutions to provide dynamic voltage control, power factor correction and post-contingency reactive compensation to stabilize the power grid and prevent undesirable events such as voltage collapse. These solutions also augment the overall performance of wind farms and enable developers to meet grid interconnection requirements. D-VAR reactive compensation systems are classified as Static Compensators, or "STATCOMs," a member of the FACTS (Flexible AC-Transmission System) family of power electronic solutions for alternating current (AC) power grids. The D-VAR system is designed to be able to detect and instantaneously compensate for voltage disturbances by dynamically injecting leading or lagging reactive power into the power grid.
About AMSC (NASDAQ:AMSC)
AMSC generates the ideas, technologies and solutions that meet the worlds demand for smarter, cleaner … better energy™. Through its Windtec™ Solutions, AMSC provides wind turbine electronic controls and systems, designs and engineering services that reduce the cost of wind energy. Through its Gridtec™ Solutions, AMSC provides the engineering planning services and advanced grid systems that optimize network reliability, efficiency and performance. The Companys solutions are now powering gigawatts of renewable energy globally and are enhancing the performance and reliability of power networks in more than a dozen countries. Founded in 1987, AMSC is headquartered near Boston, Massachusetts with operations in Asia, Australia, Europe and North America. For more information, please visit www.amsc.com.
Featured Product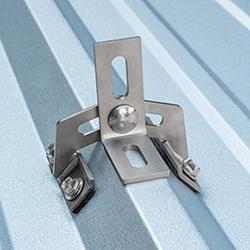 QuickBOLT Low Profile QuickBOLT with Microflashing™ is the industry's affordable, UL Certified Asphalt Shingle mounting system. The Microflashing™ is compressed by the collar on the bolt to create a water-tight seal. With an installation time of less than one minute, the Low Profile QuickBOLT allows installers to complete more jobs.