Array is first American commercial system using Bisun solar panels
HILLSBORO, Ore., March 7, 2016 - SolarWorld, the largest U.S. crystalline-silicon solar manufacturer for more than 40 years, announced today that the companys U.S. manufacturing hub has produced its first bifacial Bisun modules for installation as part of a 205-kilowatt system at the University of Richmond (Virginia).

The system will be the first commercial installation in the Americas to employ SolarWorlds latest technology, which can generate up to 25 percent more energy, compared with standard mono-facial modules of the same nominal wattages.
Set atop the universitys Weinstein Center for Recreation and Wellness, the new system will compare performance of standard modules using advanced p-type mono-PERC (passivated emitter rear contact) cell architecture and Bisun modules using the same cell architecture. Bisun technology generates electricity both from direct exposure to solar radiation on the front side as well as reflected sunlight on the backside.
In addition, both types of modules will be installed on top of both a gravel roof and a roof of vinyl-like white material TPO (thermoplastic olefin) to produce further performance data comparisons. Actual power generation from bifacial modules depends on both the distance they are installed from a surface beneath them as well as the composition and therefore reflectivity of that surface.
SolarWorld will co-own the array with Secure Futures, based in Staunton, Va., which is developing the project. Under the first power purchase agreement within the service territory of utility Dominion Power Virginia, the University of Richmond will purchase power generated by the array. Installation is expected to conclude this spring.
"Thanks to the university, we will provide a system that produces clean power while also demonstrating the in-field capabilities of technological innovation," said Mukesh Dulani, U.S. president of SolarWorld. "Aside from making the university greener, this installation will provide a strong set of performance data in a real-world application. Bifacial PERC modules represent a significant technological advancement in photovoltaics, and SolarWorld is once again leading the deployment of cutting-edge solar technologies. We look forward to showing customers the finished system."
About SolarWorld REAL VALUE: SolarWorld manufactures and sells high-tech solar power solutions and, in doing so, contributes to a cleaner energy supply worldwide. The group, headquartered in Bonn, Germany, employs about 3,800 people and carries out production in Freiberg, Germany; Arnstadt, Germany; and Hillsboro, Oregon, USA. From raw material silicon to solar wafers, cells and modules, SolarWorld manages all stages of production ‒ including its own research and development. Through an international distribution network with locations in the United States, Europe, Singapore, Japan and South Africa, SolarWorld supplies customers all over the world. The company maintains high social standards at all locations across the globe, and it has committed itself to resource- and energy-efficient production. SolarWorld was founded in 1998 and has been publically traded on the stock market since 1999. Connect with SolarWorld on Facebook, Twitter and www.solarworld.com.
Featured Product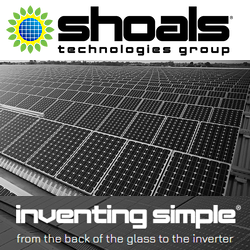 Inventing Simple® isn't just a slogan to us, it's a way of life. Using simple plug-and-play ideology, we revolutionized solar installations in 2003 with our Interconnect System™. Our harnessing system is now the gold standard EPC's use around the world. By using simple ideas, we are making solar energy a more affordable and clean power source for future generations.