Global Delegates to Join USTDA Director Zak during Closing Session of #ESACon16
WASHINGTON, March 8, 2016 /PRNewswire/ -- The Energy Storage Association (ESA) and the U.S. Trade and Development Agency (USTDA) will host multiple international delegations through a Reverse Trade Mission to meet with U.S. manufacturers and providers of energy storage solutions at the ESA 26th Annual Conference and Expo in Charlotte, NC, from April 25-27.

The delegations include public sector officials and high-level corporate representatives from South Africa, Brazil, Colombia, India, the Philippines, Turkey, and Vietnam. These countries are planning to make significant investments in energy storage solutions in order to provide affordable, reliable power to consumers and to integrate renewable energy onto their grids. The delegates seek to implement energy storage projects, purchase energy storage solutions and learn more about financing mechanisms and policies that support energy storage deployment.
"USTDA is proud to bring our partners from high-growth emerging markets to this exciting event," said Leocadia I. Zak, Director of USTDA. "We believe it will be a win-win for our overseas partners who are seeking innovative solutions that can help them meet their energy goals and for U.S. firms looking to expand their international presence."
"Global energy storage is set to experience significant growth and ESA is continually seeking opportunities for our industry to grow into new markets and showcase proven energy storage technologies," said Matt Roberts, Executive Director of Energy Storage Association. "By partnering with USTDA, our conference attendees will have a unique opportunity to learn firsthand and meet one-on-one with decision makers from around the world who are actively seeking partners for current and upcoming energy storage projects."
At the event, USTDA Director Zak will moderate a panel of select delegates, including Tata Power CEO Praveer Sinha. The panelists will address the challenges and opportunities in international projects during the closing session entitled: "Where Do We Go from Here? International Opportunities for Storage."
USTDA is an independent federal agency that helps companies create U.S. jobs through the export of U.S. goods and services for priority development projects in emerging economies. USTDA links U.S. businesses to export opportunities by funding project planning activities, pilot projects, and reverse trade missions while creating sustainable infrastructure and economic growth in partner countries.
To request a one-on-one meeting with a delegate from the USTDA reverse trade missions during the ESA 26th Annual Conference and Expo, contact David Ross at dross@ustda.gov or visit www.energystorage.org/conference.
International presence at ESA Annual Conference—#ESACon16—continues to grow with more than 50 countries represented in total.
ESA 26th Annual Conference and Expo will bring together senior leadership from utilities, suppliers, project developers, financiers, and customers for three days of world-class speakers and workshops covering energy storage technology, policy, trends, and market growth. The expo will also showcase energy storage innovations and services on its expansive trade show floor.
About Energy Storage Association
The Energy Storage Association (ESA), the national trade association for the energy storage industry, is the leading voice for companies that develop and deploy the energy storage technologies we rely on every day. ESA's mission is to promote, develop and commercialize competitive and reliable energy storage delivery systems for use by electricity suppliers and their customers. With more than 200 member organizations, ESA members represent a diverse group of entities, including electric utilities, energy service companies, independent power producers, technology developers deploying advanced batteries, flywheels, compressed air energy storage, thermal storage, pumped hydropower, supercapacitors, and component suppliers, such as power conversion systems.
The ESA Annual Conference and Expo is the industry's largest and fastest growing conference. To learn more about ESA or to register for the 2016 Conference in Charlotte, NC, from April 25-27 visit www.energystorage.org. Stay connected with ESA on Twitter, Facebook, and LinkedIn.
Featured Product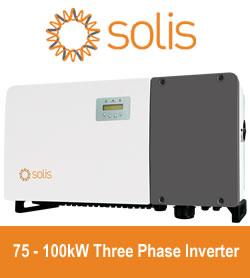 Solis75kW - 100kW series high-power string inverters are widely used in industrial and commercial rooftops. Solis's new three-phase string inverter is the first choice for industrial and commercial photovoltaics. 75-100kW three phase series string inverter have Maximum 28 strings input, support "Y" type connection in DC side. Maximum string input current 13A, support bifacial modules access.Supports anti-PID function to improve system efficiency.