Ontario solar manufacturer Strathcona Energy International provides high-efficiency modules for FiT project, installed by sister company Strathcona Solar
Belleville (Ontario), March 15, 2016.—Strathcona Energy International (SEI), a North-American based manufacturer of premium-quality solar modules, announced the completion of a 500 kilowatt rooftop photovoltaic system at the Magna Centre in the Town of Newmarket, Ontario. Sister company Strathcona Solar Initiatives, a multiple award-winning solar integrator, designed and installed the 1950-module array and will also be responsible for system maintenance services.

The fast growing town north of Toronto has been rated one of the Best Places to Live in Canada by MoneySense Magazine, based, among other factors, on its progressive approach to municipal sustainability. Besides a widely recognized recycling and composting program, the city has been pesticide-free since 2008, participates in an ambitious clean air program, and is home to Canadas first environmentally friendly subdivision with 34 LEED-Platinum homes.
As a natural next step, the leadership team of Newmarket wanted to explore renewable energy options that would also be financially sustainable to the citys coffers. After being awarded a Feed-in-Tariff contract from the Ontario Power Authority (IESO), the town was ready to utilize its state-of-the-art facility for more than recreational sports. At the end of December last year, the switch was flipped on the 500 Kilowatt rooftop system that will feed renewable solar energy into the grid and contribute to a cleaner, healthy air and climate for all Ontarians.
The Canadian-manufactured polycrystalline panels are quality-tested to withstand heavy snow loads and wind gusts up to 2400 Pascal, and are certified to operate in temperatures as low as minus 40 degrees Celsius, which is an absolute must in the Ontario climate. To assure maximum energy harvest and optimal revenue, the photovoltaic panels feature a 25-year power guarantee and are engineered to generate only positive Watt tolerances without power loss.
"We congratulate the innovative leadership of the Town of Newmarket for their dedication on utilizing the sun as part of their sustainable investment strategy," says Karl Hollett, the CEO of Strathcona Energy Group. "Solar energy has a tremendous potential to transform communities in the way they consume and produce energy, and we would like to thank Newmarket for letting Strathcona Energy be part of this exciting new venture for the town."
About Strathcona Energy International - Photovoltaics Perfected
SEI is synonymous with quality excellence, reliability and an industry-leading "Cost of Energy" proposition. A leader in PV modules SEI specializes in a robust product suite that includes market pioneering AC-PV, Bifacial PV and BI-PV (Glass-on-Glass) modules. This technological stewardship coupled with manufacturing and assembly assets throughout North America allows the company to produce high-demand and high-quality solar modules for its global sales and distribution channels to fit any installation or project all while meeting any quality or certification requirements.
About Strathcona Solar Initiatives — Full Service Solution
Strathcona Solar is an award winning full service solutions provider located in Ontario that specializes in the design, installation, and maintenance of solar initiatives. Strathcona Solar provides client specific sales, engineering, as well as operational support for solar applications from high-yielding solar trackers to rooftop and ground-mount solar, solar pumps, and solar lights. All solutions are engineered using only the highest quality components from proven global partners. Strathcona Solar Initiatives is part of the Strathcona Energy Group (SEG) which specializes in providing vertically integrated solutions for the next generation of photovoltaics.
About Strathcona Energy Group - Making Energy Together
Founded in 2009, Strathcona Energy Group (SEG) is a highly diversified holding company based in Ontario, Canada that specializes in providing vertically integrated renewable energy solutions with locations in both Canada and the United States. Its current and wholly owned participants include installer company Strathcona Solar Initiatives (SSI) and module manufacturer Strathcona Energy International (SEI).
Media Contact
Susanne F. Quinn, Head of Corporate Communications
Email: Susanne.Quinn@strathconaenergy.com
Phone: +1 (478) 230-3347
###
Featured Product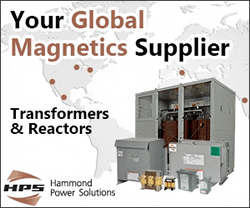 HPS is the largest manufacturer of dry-type transformers in North America. We engineer and manufacture a wide range of standard and custom transformers that are exported globally in electrical equipment and systems. We support solid industries such as oil and gas, mining, steel, waste and water treatment, and wind power generation. HPS leads the industry in these markets through its technical design strength, breadth of product, and manufacturing capabilities, making HPS a stronger company both fundamentally and financially.