Neu-Ulm, 29. March 2016. Aerodynamically optimised, non-penetrative, and installed in no time at all - the Neu-Ulm-based T. Werk GmbH is launching its new TRITON elevation system in May.
The innovative system is suitable for every conceivable flat roof, be it foil, bitumen, gravel, grass or trapezoidal sheet. The new installation system is available as two south variants with elevation angles of 10 and 15 degrees, and an east-west model with a 12-degree angle of elevation.

Each ground rail can be used for string cable routing. T. Werk also offers an option with special cable ducts for the module cables, which run under the modules to ensure a tidy and metallurgically shielded cable guide under the whole module field. And the TRITON elevation system can be installed without penetrating the roof itself. The high level of prefabrication, the bolt connections and the modular construction system guarantee a much shorter installation time. T. Werk's use of a thick-coated and highly resistant zinc-aluminium-magnesium alloy for the coating of the high tensile steel guarantees that the system withstands both ammonia contamination and salty, coastal air. T. Werk also provides a 12-year guarantee.
Optimisation in the wind tunnel
Nor are low load reserves a problem for TRITON. "We tested our system in a boundary layer wind tunnel at the I.F.I. Institute in Aachen", explains T. Werk managing director Markus Ziegler. "This means we can guarantee that our system has been optimised in terms of stability and aerodynamics, making it also suitable for roofs with low load reserves."
About T. Werk GmbH
T. Werk GmbH was founded in 2012. The company manufactures and sells elevation systems for steep and flat roofs, open space systems and individual customer-specific systems. T. Werk also provides comprehensive services, including structural calculations, on-site inspections, training for assembly technicians, and site management.
Publisher and press contact
T. Werk GmbH
Markus Ziegler
Pfaffenweg 35
89231 Neu-Ulm
Telephone: 0731-715759-171
Fax: 0731-715759-299
eMail: m.ziegler@t-werk.eu
Featured Product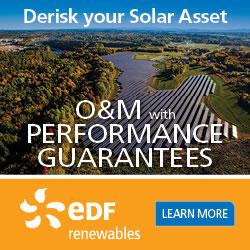 EDF Renewables offers the same innovative solutions that maximize the performance of our own 5.2 GW of installed projects. Because we're not an equipment manufacturer, our recommendations are transparent and data-driven. We cover the entire project lifecycle: from pre-commissioning support, through warranty and post warranty operation, to late stage and decommissioning.