Renewable energy consultancy, Natural Power, has appointed Euan Fenelon as Director of Asset Management; and Kevin Quinn as Head of Site Management.
Renewable energy consultancy, Natural Power, has appointed Euan Fenelon as Director of Asset Management; and Kevin Quinn as Head of Site Management.

Euan joined from Scottish Power where he was the Health and Safety Programme Manager for UK and European offshore renewable projects, and responsible for developing and implementing appropriate processes for the safe development, construction, operation and maintenance of offshore assets.
He was heavily involved in the global commercial consultancy activities developed by Scottish Power - advising utilities on asset strategy - and has had significant experience of planning, reporting and controlling asset management activity across multiple sites in an international context.
He said: "The renewable energy market continues to evolve and professionalise its commercial approach as part of the overall energy mix. Im looking forward to the time ahead, growing and developing the asset management offering at Natural Power, and developing our process safety offering as part of our world-class business. Joined up thinking and collaboration within our business is already helping clients to maximise the value of their assets, and with our increasing focus on improving reliability, health and safety, and smart approach to asset management, well be increasing the focus on supporting clients achieve a levelised cost of energy."
Kevin Quinn has also joined Asset Management to lead the site management team. Joining from Siemens Wind Power, where he spent six years as a project manager in offshore wind farm construction, Kevin will work with the wider team of area managers and site managers to deliver the scope of asset management services on operational renewable energy projects within Natural Powers portfolio.
Natural Power will capitalise on Kevins experience in the execution of large-scale projects to create an optimised process for operational delivery. Based in the Stirling office, Kevin will work UK-wide and additionally with the French and US teams to support their international growth.
Richard Walls, Commercial Director at Natural Power, said: "As we move ahead with our three to five year business plan, and increase our focus on supporting our clients to achieve cost parity, the appointment of Euan and Kevin brings a wealth of invaluable experience to support the direction of our business. Their industry and project background perfectly complements our existing in-house skills and will ensure we continue to provide the best possible service and advice to our clients."
Earlier this month Natural Power underpinned its commitment to supporting the renewable energy industry achieve cost parity with the appointment of Neil Douglas to the role of Director of Levelised Cost of Energy (LCoE). The new role was created in response to market dynamics and Natural Powers long term strategy to support clients in achieving their operational efficiency and competitiveness objectives. This key operational role will work across the entire Natural Power business in the UK and internationally throughout all sectors and phases in order to add value through advice and expertise.
About Natural Power
Established in the mid 1990s, Natural Power is a leading independent renewable energy consultancy and products provider. The company offers proactive and integrated consultancy, management and due diligence services, backed by an innovative product range, across the onshore wind, offshore wind, wave, tidal, renewable heat, solar pv and hydro sectors, whilst maintaining a strong outlook on other new and emerging renewable energy sectors.
Natural Power has been at the heart of many groundbreaking projects, products and portfolios for more than two decades, assisting project developers, investors, manufacturers, research houses and other consulting companies. With its iconic Scottish headquarters, The Green House, Natural Power has expanded internationally to work in 32 countries, and now employs over 320 renewable energy experts. This project experience spans a portfolio of 69GW which is equivalent to powering 4.7m UK homes.
Featured Product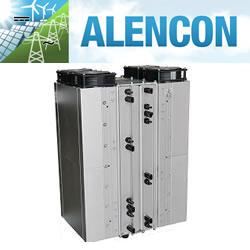 Alencon Systems is the premier manufacturer of high power, high voltage DC:DC optimizers for alternative energy applications including solar, battery energy storage, Microgrids, Fuel Cells and Electric Vehicle charging. Alencon's DC:DC converter offerings include the SPOT, BOSS and CUBE series DC:DC converters. The SPOT is a modular, uni-directional DC:DC solution ideal for solar applications. The BOSS is a modular, bi-directional unit for use with battery energy storage. The CUBE is a monolithic DC:DC converter which is available in both uni-directional and bi-directional modalities. Pictured above, is the Alencon SPOT.