- This will be one of the largest urban solar power arrays in U.S. and will generate more than $1 million in tax revenue for the City. - Community will receive newly designed park, additional recreation space and energy audits as part of the deal.
DETROIT, March 29, 2016 /PRNewswire/ -- DTE Energy received approval from the Detroit City Council today to develop one of the largest urban solar power arrays in the country on a 10-acre vacant parcel of land in Detroit at the former O'Shea Park, near Interstate 96 and Greenfield Road.

The project will generate more than $1 million in tax revenue for the City over the life of the 20-year lease and will produce enough clean energy to power approximately 450 homes. DTE plans to begin construction on the project in May, with completion scheduled for the end of 2016.
"DTE Energy is proud to be a partner with the City of Detroit on this solar project that will utilize 10 acres of Detroit's blighted and unused land and re-energize the surrounding neighborhoods," said David Meador, vice chairman and chief administrative officer, DTE Energy. "Not only will this new solar array enable DTE to deliver more clean energy to our customers, it is also a part of our efforts to help spur economic growth and prosperity in the neighborhoods we serve."
In addition to the increased tax revenue for the City, the solar project is a part of the City's efforts to beautify the park. DTE also has made a broader commitment to the City of Detroit and will invest more than $1 billion over the next 10 years to modernize the City's energy grid.
"This partnership with DTE Energy is a perfect example of how public-private partnerships can stabilize and strengthen our neighborhoods," said Detroit Mayor Mike Duggan. "This vacant property soon will be put back to use in a way that is good for the neighborhood and good for the environment."
The City of Detroit has also established partnerships with the United States Department of Housing and Urban Development, Erb Foundation, Walker-Miller Energy Services and the Greening of Detroit to support improvements to O'Shea Park, as well as to provide STEM education, workforce development and energy efficiency programs to benefit the local community.
Along with this solar project, DTE has four other solar projects currently under development, including an array in Ypsilanti, one at the GM Warren Transmission plant, and two large-scale projects in Lapeer. One of the Lapeer solar arrays will be the largest energy company-owned solar array east of the Mississippi River. By the end of the year, DTE will have 31 solar arrays in operation capable of generating enough clean energy to power more than 14,000 homes.
"DTE Energy is Michigan's leading provider of and investor in solar energy. These projects further DTE's commitment to develop a balanced energy mix that enables us to provide affordable, reliable and clean energy to our customers," said Meador.
The new solar projects will help expand DTE's renewable energy generation beyond the 10 percent required by Michigan's 2008 Renewable Energy Portfolio Standard under Public Act 295. DTE is continuing to evaluate additional wind and solar energy projects across the state.
DTE is Michigan's largest investor in renewable energy, including wind and solar, having driven investments of more than $2 billion since 2008, with $67 million of that spent to develop solar arrays across its service territory. Today, DTE's entire renewable energy portfolio is capable of generating enough clean energy to power more than 400,000 homes. The portfolio includes facilities owned and operated by DTE, along with contracts to purchase power from third-party developers in Michigan. All of the power generated by these facilities is fed into the energy grid and distributed to those who need it.
As part of the partnership between the City and DTE, the project will provide educational opportunities for students to learn more about sustainability and renewable energy through interpretive signage, rain gardens, and additional educational partnerships.
Detroit-based Walker-Miller Energy Services will provide free energy audits for homes in the immediate area, many of which could qualify for free furnace and appliance replacements and other money-saving upgrades.
The City also has received the generous support of the Erb Family Foundation to enable a partnership with the Greening of Detroit on the park design and creating workforce development opportunities for residents of the O'Shea Park community.
About DTE Energy
DTE Energy (NYSE: DTE) is a Detroit-based diversified energy company involved in the development and management of energy-related businesses and services nationwide. Its operating units include an electric utility serving 2.2 million customers in Southeastern Michigan and a natural gas utility serving 1.2 million customers in Michigan. The DTE Energy portfolio includes non-utility energy businesses focused on power and industrial projects, natural gas pipelines, gathering and storage, and energy marketing and trading. As one of Michigan's leading corporate citizens, DTE Energy is a force for growth and prosperity in the 450 Michigan communities it serves in a variety of ways, including philanthropy, volunteerism and economic progress. Information about DTE Energy is available at dteenergy.com, twitter.com/dte_energy and facebook.com/dteenergy.
Featured Product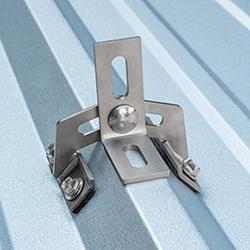 Explore new lines of income for your solar installation business with QuickBOLT's Stone Coated Steel roof mounts designed in partnership with metal roof manufacturers themselves. These SCS roof mounts work on all metal tile profiles and will help you bring in money you're missing out on. By not driving into the roofing material, QuickBOLT's Stone Coated Steel roof hooks maintain the integrity of the roof. Install with ease and confidence knowing your roof is protected against the harsh elements that these hooks are designed for.