Merrimack NH -- Oztek Corp announces the release of their OZipTM Intelligent Power Module, elevating integrated power to the next level. OZip IPM goes beyond simple digital protection and fault management with inclusion of a 32-bit floating-point processor running highly configurable application control code. It operates with DC link voltages up to 850V and continuous phase currents up to 250ARMS. Available in IP55 rated, forced-air and liquid-cooled configurations, OZip IPM accommodates a wide range of power control applications.
OZip IPM is factory-programmed with one of three code modules, each designed to address different groups of applications. Control 3-phase induction and permanent magnet motors up to 200HP with OZip Motor Control Software. OZip GTI/AFE Software facilitates grid-connected inverter applications, and OZip DC/DC Software enables interleaved, bidirectional buck and boost regulator operation. Oztek can also supply the necessary filters for inverter and DC/DC applications, or help customers specify a filter to satisfy their particular application's needs.

"We're excited to be at the forefront of a technology that can have such a major impact on how companies bring their products to market," said John O'Connor, Oztek's CEO. "Continual pressure on development time, cost, and risk has driven steady increases in power module functionality. Given the substantial effort to produce robust power control software, OZip IPM's configurable application code is the logical next step in power module integration."
A global provider of digitally controlled power solutions since 1997, Oztek Corp designs and manufactures for OEM applications in rail, off-highway vehicles, hybrid vehicles, alternative energy, power generation, and energy storage systems.
Featured Product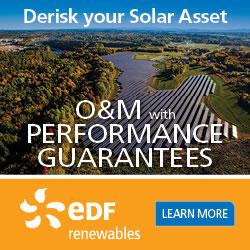 EDF Renewables offers the same innovative solutions that maximize the performance of our own 5.2 GW of installed projects. Because we're not an equipment manufacturer, our recommendations are transparent and data-driven. We cover the entire project lifecycle: from pre-commissioning support, through warranty and post warranty operation, to late stage and decommissioning.