UAV inspection is expected to increasingly complement current wind turbine blade operations & maintenance practices, report finds
BOULDER, Colo.--(BUSINESS WIRE)--A recent report from Navigant Research examines the global market for unmanned aerial vehicles (UAVs), commonly known as drones, for wind turbine blade inspection, including revenue forecasts by segment and region, through 2024.

At the beginning of 2015, there were nearly 270,000 individual wind turbines operating globally, each with a set of blades constantly being exposed to the elements and suffering gradual wear and tear. Deterioration of blades can cause reduced energy generation and catastrophic blade collapse, and businesses are increasingly using UAVs to help with blade inspection efforts. Click to tweet: According to a recent report from Navigant Research, annual revenue from UAV sales and services for wind turbine inspection is expected to reach $1.6 billion by 2024.
"Each individual wind turbine blade needs to be inspected at minimum once a year during a turbines average 20-year lifespan because blade deterioration can reduce a turbines ability to produce power at best and cause total system failure at worst," says Jesse Broehl, senior research analyst with Navigant Research. "UAVs can also provide quicker and less risky blade inspection than rope-based techniques when high-resolution images are essential."
The two most significant flight limitations for the use of UAVs at a wind plant are battery life and wind speed conditions, according to the report. Commercial-grade UAVs can provide higher-resolution visuals than ground-based turbine inspections, but they generally have battery life in the one to two hour range and need to remain stable enough in gusty winds to collect usable images of blades.
The report, Drones for Wind Turbine Inspection, analyzes the global market for UAVs for wind turbine blade inspection. The study provides an analysis of the market dynamics, industry structure, and technological features driving the market for UAV hardware and inspection services. Global market forecasts for units and revenue, broken out by segment (multi-rotor UAVs and UAV inspection services) and region, extend through 2024. The report also examines the key regional regulations related to UAVs, as well as the competitive landscape. An Executive Summary of the report is available for free download on the Navigant Research website.
About Navigant Research
Navigant Research, the dedicated research arm of Navigant, provides market research and benchmarking services for rapidly changing and often highly regulated industries. In the energy sector, Navigant Research focuses on in-depth analysis and reporting about global clean technology markets. The teams research methodology combines supply-side industry analysis, end-user primary research and demand assessment, and deep examination of technology trends to provide a comprehensive view of the Energy Technologies, Utility Transformations, Transportation Efficiencies, and Buildings Innovations sectors. Additional information about Navigant Research can be found at www.navigantresearch.com.
About Navigant
Navigant Consulting, Inc. is a specialized, global professional services firm that helps clients take control of their future. Navigants professionals apply deep industry knowledge, substantive technical expertise, and an enterprising approach to help clients build, manage and/or protect their business interests. With a focus on markets and clients facing transformational change and significant regulatory or legal pressures, the Firm primarily serves clients in the healthcare, energy and financial services industries. Across a range of advisory, consulting, outsourcing, and technology/analytics services, Navigants practitioners bring sharp insight that pinpoints opportunities and delivers powerful results. More information about Navigant can be found at navigant.com.
Featured Product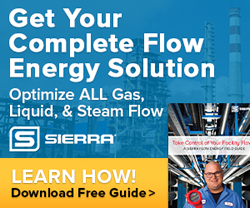 Download Flow Energy Guide - Written by Engineers For Engineers. Learn how to save on energy costs by optimizing your facility flows that impact costs like compressed air, natural gas, steam, and hot or chilled water.