U.S. utilities, large and small, added record amounts of solar to grid in 2015 SEPA announces annual Top 10 utility solar winners in Denver
DENVER -- Southern California Edison connected 1,258 new megawatts of solar power to the grid in 2015, more than any other utility in the United States, according to the annual utility solar market survey conducted by the Smart Electric Power Alliance (SEPA), formerly the Solar Electric Power Association.

Edison was one of two utilities claiming the No. 1 spots on SEPA's Top 10 utility solar lists -- one for total new megawatts and the second for watts per customer -- announced today in Denver at the educational nonprofit's annual Utility Solar Conference. The Village of Minster in Ohio headed the Top 10 list of utilities that added the most watts per customer in 2015, hitting a new record of 2,104 watts per customer.
"Today's recognition is the result of the work that SCE has been engaged in for many years, not just in connecting solar, but in supporting California's ambitious carbon reduction goals and supporting customer choice in technology through innovation and investment in our distribution grid," said Caroline Choi, SCE's vice president of Energy and Environmental Policy.
"Being the first place recipient in the watts per customer category is a real honor for the Village of Minster," said Don Harrod, Administrator for the Village of Minster, which has a population of 2,850. "The village officials, the mayor realized the benefits of having green energy to really give the residents what our core mission is, and that's to provide reliable, low-cost power."
SEPA has issued an infographic with full Top 10 and other survey results, attached to this release. Other key points from the survey include --
• Pacific Gas & Electric (787 MW), which had claimed the No. 1 spot in total megawatts for the past eight consecutive years, fell to No. 2. Duke Energy Progress of North Carolina (461 MW) edged out San Diego Gas & Electric (441 MW) for the No. 3 spot, the first time a utility outside California has broken into the top of the list.
• In fact, North Carolina made an exceptionally strong showing in this year's survey, with Duke Energy Progress and Dominion North Carolina Power appearing on both the Top 10 lists for total new MW and watts per customer.
• On the watts per customer list -- where small utilities have the competitive edge -- municipal and electric cooperative utilities took seven of the 10 spots. Along with Minster, utilities breaking into the Top 10 for the first time include Carey Municipal Power and Light, also from Ohio; the City of Okolona Electric Department in Mississippi and Dominion of North Carolina.
"This year's utility solar market survey truly shows the dynamic nature of the sector, and the positive, proactive role utilities are playing in the energy transition in our country," said Julia Hamm, SEPA's President and CEO. "Utilities are responding to consumer interest in solar with cost-effective, innovative programs that provide benefits to their customers and the grid."
The 2015 survey results are based on raw data that SEPA received from about 330 utilities across the country, covering a total of 6,428 megawatts of new solar -- residential, commercial and utility-scale -- they connected to the grid from Jan 1 to Dec. 31, 2015. In all, the utilities on this year's Top 10 list account for 65 percent of total new solar connected in the country last year.
The survey data is now available on SEPA's Utility Solar Database. Coming in June, SEPA's annual Solar Market Snapshot will also provide further insights and analysis on trends from the survey.
About SEPA:
The Smart Electric Power Alliance is an education nonprofit that facilitates the utility industry's smart transition to a clean energy future. Through education, research and collaboration SEPA enables the integration and deployment of solar, demand response, other distributed energy resources and supporting technologies onto the grid.
Featured Product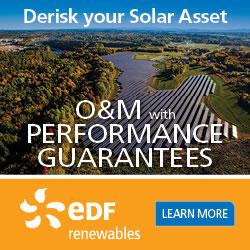 EDF Renewables offers the same innovative solutions that maximize the performance of our own 5.2 GW of installed projects. Because we're not an equipment manufacturer, our recommendations are transparent and data-driven. We cover the entire project lifecycle: from pre-commissioning support, through warranty and post warranty operation, to late stage and decommissioning.