SolaTrim Barriers Meet New Protection Standards for Canadian Residential Solar Systems
SACRAMENTO, Calif.--(BUSINESS WIRE)--SolaTrim™ LLC (www.solatrim.com), innovators in protective barriers to beautify and safeguard residential solar systems, today announced that the SolaTrim protective barriers are fully compliant with the solar system rodent protection requirements outlined in the recent 2015 update to the Canadian Electrical Code. This year, SolaTrim has been actively expanding distribution of its protective barriers into Canada. The latest changes to the Canadian Electrical Code will give Canadian solar installers added incentive to adopt SolaTrim to provide readymade protection for rooftop solar.

A new sub rule to 50-018 of the Canadian Electrical Code specifies that photovoltaic source circuits installed on or above a building need to be protected against damage from rodents. Appendix B of the sub rule also specifies that material such as expanded metal, solid metal, and screening should be used. SolaTrims protective barrier meets all the criteria for the new Electrical Code sub rules with a ready-to-install protective barrier constructed of black polyester-coated aluminum panels that adhere directly to the solar frame, providing a lasting and aesthetically pleasing solution to pest infestation.
"SolaTrim was specifically designed to address issues such as rodent control outlined in the updated Canadian Electrical Code," said Bob Smith, co-founder and President of SolaTrim LLC. "While other pest abatement systems use unsightly wire mesh that is impermanent and hard to install, our self-adhesive panels provide attractive protection for any solar array. Installation is fast and easy, and the end result provides a pleasing look designed to last for the life of the rooftop system."
The SolaTrim 0.25-inch aluminum panels are diamond stamped to allow air to circulate while keeping rodents and birds out. The panels are installed using a peel-and-stick adhesive tested for long-term adhesion in any weather conditions at any temperature. The panels are easy to install and require no screws or rivets that could invalidate solar module warranties, or clips that could fall off during inclement weather.
SolaTrim is currently available through a number of Canadian solar energy distributors including Hybrid Power Supply in Alberta and British Columbia and Sentinel Solar in Concord, Ontario. For more information, visit www.solatrim.com.
About SolaTrim
SolaTrim LLC is an innovator in providing new solutions to protect and beautify residential solar systems as well as provide long term protection for the homeowners solar investment. The SolaTrim barrier system adds an attractive border to solar arrays while protecting the system from pests, debris and other environmental threats. Solar integrators across North America are turning to SolaTrim as a permanent solution that will beautify rooftop solar while reducing unnecessary service & warranty calls.
Headquartered in Sacramento, California, SolaTrim LLC is committed to developing affordable, dependable, and attractive made-in-the-USA solar aftermarket products to support Americas renewable energy initiatives.
For more information, visit www.solatrim.com.
Featured Product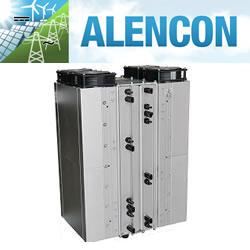 Alencon Systems is the premier manufacturer of high power, high voltage DC:DC optimizers for alternative energy applications including solar, battery energy storage, Microgrids, Fuel Cells and Electric Vehicle charging. Alencon's DC:DC converter offerings include the SPOT, BOSS and CUBE series DC:DC converters. The SPOT is a modular, uni-directional DC:DC solution ideal for solar applications. The BOSS is a modular, bi-directional unit for use with battery energy storage. The CUBE is a monolithic DC:DC converter which is available in both uni-directional and bi-directional modalities. Pictured above, is the Alencon SPOT.