"AlsoEnergy developed Zero Export Solutions to address a growing marketplace demand for control mechanisms that prevent power from being returned to a local grid" said AlsoEnergy CEO Robert Schaefer. "In 2015 we saw a dramatic rise in the number of clients who requested curtailment solutions."
Boulder, CO - April 14, 2016

AlsoEnergy, a leading international provider of solar monitoring and SCADA systems, has developed a new fully automated PV SCADA solution specifically designed for solar PV systems with "zero export" requirements. These Zero Export Solutions provide automated curtailment commands to manage solar production and keep power contained on-site.
"AlsoEnergy developed Zero Export Solutions to address a growing marketplace demand for control mechanisms that prevent power from being returned to a local grid" said AlsoEnergy CEO Robert Schaefer. "In 2015 we saw a dramatic rise in the number of clients who requested curtailment solutions."
As one example, the success of solar power in Hawaii has created a surge of utility customers with PV who are returning unused power to the grid. As a result, the Hawaii Public Utilities Commission (PUC) has set a cap on the amount of power that local grids will accept. The Hawaiian Electric Company is now promoting a Customer Self Supply Program to approve new PV installations that do not return power to the grid.
One solution to the zero export challenge is to capture unused power in a battery storage system. Even where battery storage systems are present, there may be a need for control mechanisms to curtail excess solar generation. Of course, these mechanisms must be able to respond to usage demands in real time. This presents a complex need to manage power output under variable load conditions.
AlsoEnergy recently deployed a Zero Export Solution for a corporate headquarters facility in Toledo, OH. This 2.43 MW (DC) carport array, owned and operated by Constellation, includes 79 SMA string inverters. Constellation, an Exelon company, is a leading competitive energy company providing power, natural gas, renewable energy and energy management products and services for homes and businesses across the continental United States
Constellation brought the project to AlsoEnergy with a request for automated curtailment controls to keep power contained on-site. This zero export project required demand metering to allow the PV SCADA system to continuously manage power output in sync with rising and falling power usage at the facility.
To address this need, AlsoEnergy developed an algorithm to automatically change set points for each of the 79 inverters. Control commands are sent to the inverters to adjust solar production based on real-time demand. "AlsoEnergy performed custom engineering in order to deliver this SCADA solution and meet our customer's specifications" said Constellation Senior Project Engineer Seth Kagan.
About Constellation
Constellation is a leading competitive retail supplier of power, natural gas and energy products and services for homes and businesses across the continental United States. Constellation's family of retail businesses serves approximately 2 million residential, public sector and business customers, including more than two-thirds of the Fortune 100. Baltimore-based Constellation is a subsidiary of Exelon Corporation (NYSE: EXC), the nation's leading competitive energy provider, with 2015 revenues of approximately $34.5 billion, and more than 32,700 megawatts of owned capacity comprising one of the nation's cleanest and lowest-cost power generation fleets. Learn more at www.constellation.com or on Twitter at @ConstellationEG.
About AlsoEnergy
AlsoEnergy provides monitoring and PV SCADA solutions for solar PV projects and other energy systems. They work with top-tier investors and developers to monitor over 5 GW of power spread across more than 12,000 sites worldwide. As an independent monitoring provider, AlsoEnergy is uniquely well positioned to provide fully compatible service for diverse portfolios, and to integrate with evolving technology in the years to come. AlsoEnergy provides 2 industry-leading software platforms: PowerTrack™ and DECK Monitoring.
For more information, visit: www.alsoenergy.com
Featured Product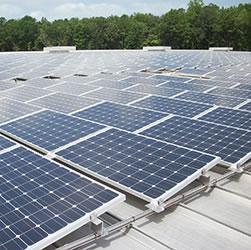 The Power Rail™ Commercial Mounting System is designed with the professional PV solar installer in mind. Both the XD/UD and LD/MD rails feature single tool assembly with the revolutionary patented RAD™ Lock-in-Place bolt for fast and secure module clamping. The high strength marine-grade aluminum rails include an integral wiring channel for securing cables and providing a professional finish.