U.S. Battery has an free online interactive calculator that makes it simple to determine your battery storage requirements.
Having backup power or being completely off-grid involves having batteries to store energy from your solar array. Most of the difficulty in doing this is determining the amount of energy use and storage capacity you will need. U.S. Battery's online interactive calculator makes it easy to determine your energy requirements and how to build your battery storage system accordingly.

The Interactive Battery Calculator can be found on the U.S. Battery website:
http://usbattery.com/calculator/energy-chart.html
It is free to use and features a variety of typical lighting, electronic devices, and appliances listed on the chart. Simply add in the number of these items and the percentage of time the items will be used. The chart applies your input to determine the total power load in Watts.
After the calculator gives you your total power in Watts, input that number into the U.S. Battery, Battery Sizing Chart. This interactive chart allows you to plug in your nominal voltage (which is usually based on the inverter of the system) and expected load operating hours. The tool will automatically calculate your System Amp-hour capacity while also determining your Required Battery Amp-hour Capacity.
Featured Product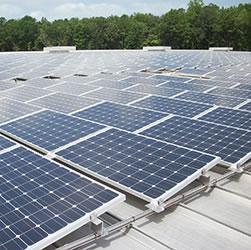 The Power Rail™ Commercial Mounting System is designed with the professional PV solar installer in mind. Both the XD/UD and LD/MD rails feature single tool assembly with the revolutionary patented RAD™ Lock-in-Place bolt for fast and secure module clamping. The high strength marine-grade aluminum rails include an integral wiring channel for securing cables and providing a professional finish.