Business Network for Offshore Wind to Host Third Annual International Offshore Wind Partnering Forum
Baltimore, MD - April 20, 2016 - As the U.S. celebrates its first offshore wind project this summer, the worlds most experienced offshore wind companies, offshore wind developers and U.S. based supply chain companies will join together at the Business Network for Offshore Winds Third Annual International Offshore Wind Partnering Forum (IPF), Oct 2-5th in Newport, RI to discuss bringing the offshore wind industry to commercial scale. With more than 79 technical presentations and over 14 built-in partnering events, the IPF is regarded as the most comprehensive and specialized offshore wind event in the U.S. Presentations will cover: understanding developers procurement processes; explaining the U.S. market and how to do business in the U.S.; transferable concepts from the oil and gas sector; grid connections; rethinking foundations and substructures for the U.S. market; working with and under the Jones Act; industry trends and many more.

The 2016 IPF agenda is the most robust and substantive in the U.S. offshore wind industry - filled with knowledgeable leaders such as Carbon Trust, UK Green Investment Bank, U.S DOE, U.S. BOEM, PJM Interconnection, U.S. Wind, DONG Energy, GE, Siemens and innovators such as Facebook and NASA. The Forum is jammed packed with timely market intelligence from the people who are developing and establishing the U.S. offshore wind industry. This year, the U.S. Department of Energy (U.S. DOE) will discuss in detail its soon to be released 2016 National Offshore Wind Strategy.
"We see a great opportunity to develop an offshore wind industry on the east coast. The International Offshore Wind Partnering Forum provides an opportunity to discuss what the industry needs to do to make the industry work here. In addition, the quality agenda and timely discussions on market intelligence make this something not to miss, " says Thomas Brostrøm, DONG Energy.
The event is expected to attract 350-400 participants from the U.S., Germany, Denmark, United Kingdom and Asia. "The Business Network for Offshore Wind is not only best situated to host the 2016 International Offshore Wind Partnering Forum in Newport, RI, it's also the only organization that can guarantee the attendance of the right players in this rapidly growing U.S. market. You can be assured that this Forum is run by the only organization whose sole focus is offshore wind energy and with it, the support and participation of developers and hundreds of supply chain member companies. Dont miss out on this unique chance for unparalleled access to the leading players at this years 2016 International Offshore Wind Partnering Forum in Newport, Rhode Island," says Paul Rich, U.S. Wind.
The IPF places an emphasis on creating partnerships and delivers more than 14 opportunities for personal networking, and connecting businesses through WindMatch sessions, a chance for individuals to sit down one-on-one with other leaders in the industry. The event is intentionally kept at a manageable size to facilitate networking and business connections, which often lead to business transactions both in and out of the offshore wind industry.
The Forum also injects U.S. innovation into the global offshore wind dialogue, while highlighting European expertise. The event sparks ideas, offers differing approaches and presents unique perspectives on planning, constructing, and maintaining an offshore wind project. "The United States has led the world in innovation, and this event facilitates the insertion of new ideas into the global offshore wind industry, helping to drive down costs. This year, the National Aeronautics and Space Administration (NASA) Langley Research Center (LaRC) is hosting an internal technology competition to promote commercialization of technologies in the areas of offshore wind, advanced manufacturing and UAVs. The winners will be featured in an exclusive workshop panel," said Liz Burdock, Executive Director of the Business Network for Offshore Wind (Network). "The United States will follow some European practices to plan, construct and maintain its offshore wind projects, but it will not completely copy the European offshore wind industry model, creating opportunities for innovation in all sectors of the supply chain. For that reason, the Network heavily promotes innovation and the use of technologies from all sectors to reduce costs. "
This year, the IPF will spotlight the first U.S. offshore wind project being built off the coast of Block Island, Rhode Island, with a tour of the project on Atlantic Wind Transfers, a Network Member. During the tour, participants will hear directly from Network members such as GE, LM Windpower, and Northeast Carpenters, who are constructing and installing the project. You must be registered for the IPF to attend the tour. Space is further limited to the first 125 participants due to boat capacity.
The forum is being sponsored by U.S. Wind, DONG Energy, Aeolus Energy, GE, LM Wind Power, Meggitt, Sabik Offshore GmbH, Siemens, Alpine Ocean Seismic Survey, Apex Companies, LLC and Ventower Industries. Partners include Maine Ocean & Wind Industry Initiative (MOWII). Supporting partners include U.S. Bureau of Ocean and Energy Management (BOEM), US Department of Energy (US DOE), US Department of Commerce (US DOC), U.S. Trade and Development Association (USTDA), United Kingdom Trade and Investment (UKTI), Friends of the Supergrid, NREL, State of Rhode Island Office of Energy Resources and Fishermens Energy.
For more information, visit the Forums website at www. 2016IPF.com
####
About the Business Network for Offshore Wind
The Business Network for Offshore Wind is a 501 (c) 3 organization dedicated to establishing a U.S. offshore wind supply chain. The network is focused on delivering education, creating partnerships and advancing the industry. All membership and event proceeds are invested back into supporting the industry by helping the Network continue programmatic education, develop tools, and networks necessary to create a U.S. offshore wind supply chain.
Follow the Business Network For Offshore Wind on Twitter: @offshorewindus and Like us on Facebook: The Business Network for Offshore Wind. Websites: www.offshorewindus.org or www.bizmdosw.org
Featured Product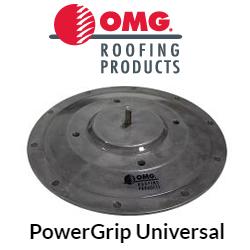 Eliminate Solar Rack Ballast and Reduce Rooftop Material Handling. PowerGrip™ Universal (PGU) is a commercial roof mount system designed to secure solar racks and other equipment to any type of commercial roofing system. PGU provides a secure connection directly to the roof deck or structural members and is designed to reduce or eliminate ballast in solar racking systems, so there's less weight on the roof and less material handling. Made of heavy-duty cast aluminum, PGU units include a base ring which is secured through the roofing cover and into the structural roof deck, and a waterproof top plate.