Etsy Solar Redefines Community Benefits with Launch of Greenhouse Gas Emissions Reduction Program on the Geostellar Platform
BROOKLYN, N.Y.--(BUSINESS WIRE)--Geostellar, the nations first and largest online solar marketplace, today officially announced a partnership with Etsy, Inc., a marketplace where people around the world connect to make, sell and buy unique goods, to launch a new pilot program called Etsy Solar. The program will help members of the Etsy community install solar panels on their homes or studios at deeply discounted prices, while creating verified carbon emissions reductions.

Etsy plans on using these emissions reductions in aggregate -- pending approval from each participant -- to create offsets that will be applied on a yearly basis against its marketplace shipping emissions (95% of the companys overall carbon footprint) to meet its long-term goal of running a carbon neutral marketplace.
When a new participant applies for the Etsy Solar pilot program, Geostellar will instantly and interactively tailor a solar energy installation and financing plan to meet the unique needs of each individual household. Geostellar will then provide a discount based on the potential contribution of the clean solar energy generation toward the comprehensive emissions reduction goals of the Etsy community. Etsy developed the process according to Gold Standard requirements to enable those reduction rights to be validated, verified and registered as carbon offsets.
"When we initially came up with the concept, it was difficult to find a partner who would be up for the challenge of building a new type of program that will significantly reduce barriers to going solar and allow participants to contribute the distributed offsets they generate to a single project across the community," said Chelsea Mozen, Senior Energy & Carbon Specialist at Etsy. "Ultimately, it was clear to us that Geostellars platform and vision was best suited to make Etsy Solar a reality."
Geostellar and Etsy collaboratively designed Etsy Solar to quantify the emissions reduction associated with each solar installation, transfer the emissions reduction and compensate the homeowner at the Social Cost of Carbon, with current discounts at $37 per metric ton CO2e.
Starting with pilot programs in Florida, New York, West Virginia, and Utah, participating Etsy community members will receive an average discount of $2,000 for a typical installation based on the estimated solar energy production and the emissions intensity of the regional electricity grid. In areas where emissions reduction attributes cannot be transferred to Etsy by community members due to regulations or competing incentives, an alternative discount will be offered to encourage nationwide participation.
"We are so pleased that Etsy selected our platform to support such an innovative, game-changing climate initiative," said David Levine, CEO of Geostellar. "We are eager to provide an exceptional solar experience for the members of Etsys community."
Emissions reductions will be validated and verified according to the Clean Development Mechanism (CDM) defined by the Kyoto Protocol under the auspices of the United Nations. Etsy Solar has been designed according to Gold Standard requirements.
This is the first time Gold Standard verified offsets will be created for the distributed generation of renewable energy in the US. Etsy and Geostellar have partnered together to bring this new model for creating carbon offsets and community engagement with a best-in-class big data solar platform. This initiative will pave the way for other organizations to support the scaling of residential solar and carbon finance at the social cost of carbon.
As part of the pilot program, Geostellar will provide the discount of $37 per metric ton CO2e to the first 100 qualifying households that go solar directly through Geostellar's sponsored solar program. Customers that do not qualify for the verified emissions reduction program due to conflicting state or utility programs will receive an alternative discount of $500.
About Geostellar
Geostellar is Americas first and largest solar energy marketplace, with the only instant, interactive solar profile that tailors solar equipment, installation and financing plans to best meet the unique needs of each individual household. Our patented platform lowers the cost of solar, making it more competitive with conventional electricity and providing homeowners with greater savings on electric bills. The result is more accessible, affordable and plentiful clean solar power for America. Solar Mojo, an app for the iPhone and iPad, is available for download at https://itunes.apple.com/us/app/solar-mojo/id720891584?mt=8 For more information, visit www.geostellar.com. Follow us on Twitter @geostellar and like us on Facebook.
About Etsy
Etsy is a marketplace where millions of people around the world connect, both online and offline, to make, sell and buy unique goods. The Etsy community includes the creative entrepreneurs who sell on our platform, thoughtful consumers looking to buy unique goods in our marketplace, retailers and manufacturers who partner with Etsy sellers to help them grow their businesses, and Etsy employees who maintain our platform and nurture our ecosystem. Our mission is to reimagine commerce in ways that build a more fulfilling and lasting world, and were committed to using the power of business to strengthen communities and empower people. Etsy was founded in 2005 and is headquartered in Brooklyn, New York.
Featured Product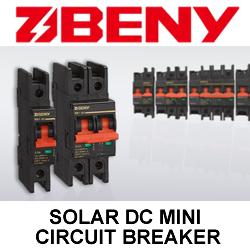 The BB1-63 modular miniature circuit-breakers can be used in solar DC circuits up to 1200 VDC (4-poles execution). Application in solar DC circuits, battery energy storage systems and UPS. Arc flash barrier design keeps solar equipment more safe and reliable. For DC circuit over-current protection.