Companies leverage depth of experience to meet needs of growing solar distributed generation market
SAN DIEGO & COLUMBIA, Md.--(BUSINESS WIRE)--EDF Renewable Energy (EDF RE) today announced the acquisition of Global Resource Options, Inc. (dba: groSolar), a privately owned company, which provides development and turnkey engineering, procurement, and construction (EPC) of solar photovoltaic (PV) projects for developers, financiers, utilities, corporate, government, and other institutional clients. The acquisition brings to EDF RE an autonomous business unit with a precise focus on distributed generation solar business to meet the growing demands of corporate customers seeking cost-effective renewable energy sources. Closing is subject to customary conditions precedent.

Since its founding in 1998, groSolar has designed, built, procured equipment and installed more than 150 megawatts (MW) (2,000 installations) of solar PV systems across the US. All with one goal in mind -- to provide customers with the most competitively priced, highest quality, on-time solar system to meet or surpass customer needs. The companys strength lies in their commitment to work in partnership with clients and local stakeholders, managing every step of the process in order to simplify solar development.
"We are very pleased to welcome groSolar to the EDF RE family. The company brings to EDF RE the ability to offer competitively priced distributed generation solar solutions to the growing Municipal, University, School and Hospital (MUSH), corporate, and utility customer base," stated Tristan Grimbert, CEO and President of EDF RE. "The addition of an established and successful distributed generation business line contributes to our long-term growth plan to diversify the customer base and augments a comprehensive range of energy services that the EDF group offers to its customers worldwide."
"groSolar benefits from the ability to leverage EDF REs deep technical resources and project development experience while remaining an independent subsidiary," stated Jamie Resor, CEO of groSolar. "We worked collaboratively during the due diligence process to ensure that our respective cultures and customer oriented focus would fully align. And today we look forward with confidence to accelerate our reach in the expanding distributed generation solar market as part of EDF RE."
EDF Renewable Energy is one of the largest renewable energy developers in North America with 8 gigawatts (GW) of wind, solar, biomass, biogas, and storage projects developed and an installed capacity of 4.1 GW. As part of the EDF Group, EDF RE works closely with EDF Energy Services and DK Energy. Through these affiliate companies, EDF RE is able to facilitate product offerings that form a complete suite of services including energy supply, hedging strategies and risk management products along with options for demand response and on-site generation management.
Marathon Capital served as exclusive financial advisor to groSolar.
About EDF Renewable Energy:
EDF Renewable Energy is a leading US independent power producer with nearly 30 years of expertise in the renewable industry, covering all range of services from project origination, development, sales and marketing, to long-term asset management. EDF Renewable Energy specializes in wind and solar photovoltaic with presence in other segments of the renewable energy market: storage, biogas, biomass, hydro, and marine energy. EDF Renewable Energys North American portfolio consists of 8 gigawatts of developed projects with 4.1 gigawatts of installed capacity throughout the US, Canada, and Mexico. The operations and maintenance subsidiary, EDF Renewable Services, operates over 10 GW throughout North America. EDF Renewable Energy is a subsidiary of EDF Energies Nouvelles. EDF Energies Nouvelles is the renewable energy arm of the EDF group, the leading electricity company in the world. For more information visit: www.edf-re.com.
About groSolar:
groSolar is an industry-leading large commercial- and utility-scale solar PV firm serving the 1 to 30 MW market. A one stop source for development and financing services to engineering, procurement, and construction to long-term operations and maintenance. groSolar's experience includes projects at brownfields/landfills, agricultural properties, and educational, corporate, and manufacturing facilities. For more information, visit www.groSolar.com.
About Marathon Capital:
Marathon Capital is a leading financial advisory and investment banking firm focused on providing financial advice in the areas of M&A, capital raising of debt and equity, project finance, tax equity, financial restructuring, recapitalization, bankruptcy and workout situations in the global energy and infrastructure markets. Marathon Capital is a two-time recipient of the "Best Renewable Asset M&A Advisor" award in Power Finance & Risks Annual Power Finance Deals and Firms Awards (2013 & 2014). www.marathon-cap.com
Featured Product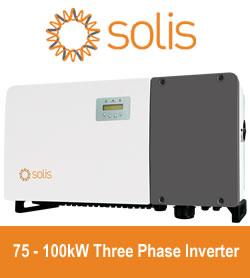 Solis75kW - 100kW series high-power string inverters are widely used in industrial and commercial rooftops. Solis's new three-phase string inverter is the first choice for industrial and commercial photovoltaics. 75-100kW three phase series string inverter have Maximum 28 strings input, support "Y" type connection in DC side. Maximum string input current 13A, support bifacial modules access.Supports anti-PID function to improve system efficiency.