Companies Will Provide Home Solar Offers
HANOVER, Germany, and SAN JOSE, Calif., April 26, 2016 /PRNewswire/ -- AT&T* and SunPower have entered into an agreement that brings Internet of Things (IoT) technology to SunPower's newest home energy solution — SunPower Equinox™. The companies will also collaborate on co-marketing efforts to offer a SunPower® home solar system to qualified AT&T customers this summer.

SunPower recently released its SunPower Equinox system to homeowners in the U.S. SunPower calculates that its solution delivers 70 percent more energy over 25 years with 70 percent fewer visible parts compared to conventional solar. Over the next two years, AT&T and SunPower expect to wirelessly connect at least 100,000 solar electric systems in the U.S. providing customers with reliable access to system performance through AT&T's IoT capabilities. The technology collaboration is designed to reduce onsite homeowner visits by allowing SunPower to wirelessly support solar power systems as needed and in near real-time.
"Our IoT solutions help customers remotely monitor cargo, homes, vehicles, containers and also —solar panels," said Mike Troiano, vice president, Internet of Things, AT&T. "Connectivity is changing how companies operate. We're thrilled SunPower chose us to give them near real-time insights into how their solar energy solutions are performing for their customers and the tools to help manage them remotely."
"Through this IoT collaboration and innovative marketing with AT&T, we are making solar even more mainstream," said Howard Wenger, SunPower president, business units. "The SunPower Equinox system is already a game changer for home solar, offering our customers unbeatable power, long-term performance and curb appeal. Now by incorporating AT&T IoT technology into SunPower's solar energy solutions, we are enabling a future of solar energy management that is reliable, simple, and cost-effective."
For more information on AT&T IoT solutions, visit: www.att.com/iot.
For more information on SunPower Equinox, visit www.sunpower.com/equinox.
*AT&T products and services are provided or offered by subsidiaries and affiliates of AT&T Inc. under the AT&T brand and not by AT&T Inc.
About AT&T
AT&T Inc. (NYSE: T) helps millions around the globe connect with leading entertainment, mobile, high speed Internet and voice services. We're the world's largest provider of pay TV. We have TV customers in the U.S. and 11 Latin American countries. We offer the best global coverage of any U.S. wireless provider.* And we help businesses worldwide serve their customers better with our mobility and highly secure cloud solutions.
Additional information about AT&T products and services is available at http://about.att.com. Follow our news on Twitter at @ATT, on Facebook at http://www.facebook.com/att and YouTube at http://www.youtube.com/att.
© 2016 AT&T Intellectual Property. All rights reserved. AT&T, the Globe logo and other marks are trademarks and service marks of AT&T Intellectual Property and/or AT&T affiliated companies. SUNPOWER, the SUNPOWER logo and SUNPOWER EQUINOX are trademarks or registered trademarks of SunPower Corporation in Europe, the U.S. and in other countries as well. All other marks contained herein are the property of their respective owners.
*Global coverage claim based on offering discounted voice and data roaming; LTE roaming; voice roaming; and world-capable smartphone and tablets in more countries than any other U.S. based carrier. International service required. Coverage not available in all areas. Coverage may vary per country and be limited/restricted in some countries.
Cautionary Language Concerning Forward-Looking Statements
Information set forth in this news release contains financial estimates and other forward-looking statements that are subject to risks and uncertainties, and actual results may differ materially. A discussion of factors that may affect future results is contained in AT&T's filings with the Securities and Exchange Commission. AT&T disclaims any obligation to update or revise statements contained in this news release based on new information or otherwise.
About SunPower
As one of the world's most innovative and sustainable energy companies, SunPower Corp. (NASDAQ: SPWR) provides a diverse group of customers with complete solar solutions and services. Residential customers, businesses, governments, schools and utilities around the globe rely on SunPower's more than 30 years of proven experience. From the first flip of the switch, SunPower delivers maximum value and superb performance throughout the long life of every solar system. Headquartered in Silicon Valley, SunPower has dedicated, customer-focused employees in Africa, Asia, Australia, Europe, and North and South America. For more information about how SunPower is changing the way our world is powered, visit www.sunpower.com.
Featured Product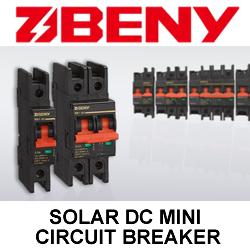 The BB1-63 modular miniature circuit-breakers can be used in solar DC circuits up to 1200 VDC (4-poles execution). Application in solar DC circuits, battery energy storage systems and UPS. Arc flash barrier design keeps solar equipment more safe and reliable. For DC circuit over-current protection.