Joint Patent Application With University of California, Santa Barbara Protects the Basis of the Company's Super Battery Technology in Europe
SANTA CLARITA, CA--(Marketwired - April 26, 2016) - BioSolar, Inc. (OTCQB: BSRC), developer of breakthrough energy storage technology and materials, today announced that it has jointly filed national phase patent applications with the European Patent Convention for "a multicomponent-approach to enhance stability and capacitance in polymer-hybrid supercapacitors." This invention also provides the core basis for the Company's super battery technology.

BioSolar previously filed an international patent application under the Patent Cooperation Treaty (PCT) for the technology that forms the basis of the proprietary technology the Company believes will improve storage capacity and increase the lifetime of supercapacitors and lithium-ion batteries.
The European Patent Convention (EPC), also known as the Convention on the Grant of European Patents of 5 October 1973, is a multilateral treaty instituting the European Patent Organization and providing an autonomous legal system according to which European patents are granted. The EPC provides a legal framework for the granting of European patents via a single, harmonized procedure before the European Patent Office.
"Filing this joint patent application in Europe helps protect the technological milestones achieved thus far, and moves us closer to the next phase of building complete prototypes and identifying potential customers in Europe, as well as the rest of the world," said David Lee, CEO of BioSolar. "Rarely does one technology exhibit such potential across so many energy sectors spanning solar, electric vehicles, and traditional charging applications for personal technology use. We believe that, once commercialized, the opportunities for application in these industries, as well as licensing opportunities with strategic partners and customers, positions us well for the short and long-term future."
BioSolar is currently funding a sponsored research program at the University of California, Santa Barbara ("UCSB"), to further develop its super battery technology. The lead inventors of the technology are UCSB professor Dr. Alan Heeger, the recipient of a Nobel Prize in 2000 for the discovery and development of conductive polymers, and Dr. David Vonlanthen, a project scientist and expert in energy storage at UCSB.
About BioSolar, Inc.
BioSolar is developing a breakthrough technology to double the storage capacity, lower the cost and extend the life of lithium-ion batteries. A battery contains two major parts, a cathode and an anode, that function together as the positive and negative sides. Today's state-of-the-art lithium-ion battery is limited by the storage capacity of its cathode, while the anode can store much more. Inspired by nature, we are developing a novel cathode based on inexpensive conductive polymers and organic materials that can fully utilize the storage capacity of conventional anodes. By integrating our high capacity, high power and low-cost cathode with conventional anodes, battery manufacturers can create a super lithium-ion battery that can double the range of a Tesla, power an iPhone for 2 days straight, or store daytime solar energy for nighttime use. Founded with the vision of developing breakthrough energy technologies, BioSolar's previous successes include the world's first UL approved bio-based back sheet for use in solar panels.
To learn more about BioSolar, please visit our website at http://www.biosolar.com.
Safe Harbor Statement
Matters discussed in this press release contain forward-looking statements within the meaning of the Private Securities Litigation Reform Act of 1995. When used in this press release, the words "anticipate," "believe," "estimate," "may," "intend," "expect" and similar expressions identify such forward-looking statements. Actual results, performance or achievements could differ materially from those contemplated, expressed or implied by the forward-looking statements contained herein. These forward-looking statements are based largely on the expectations of the Company and are subject to a number of risks and uncertainties. These include, but are not limited to, risks and uncertainties associated with: the impact of economic, competitive and other factors affecting the Company and its operations, markets, product, and distributor performance, the impact on the national and local economies resulting from terrorist actions, and U.S. actions subsequently; and other factors detailed in reports filed by the Company.
CONTACT INFORMATION
Investor Relations Contact:
Tom Becker
BioSolar, Inc.
ir@biosolar.com
(877) 904-3733
For Media Inquiries:
Eric Fischgrund
FischTank Marketing and PR
eric@fischtankpr.com
Featured Product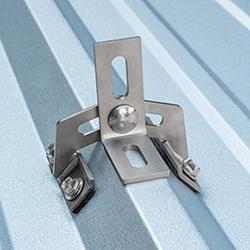 Explore new lines of income for your solar installation business with QuickBOLT's Stone Coated Steel roof mounts designed in partnership with metal roof manufacturers themselves. These SCS roof mounts work on all metal tile profiles and will help you bring in money you're missing out on. By not driving into the roofing material, QuickBOLT's Stone Coated Steel roof hooks maintain the integrity of the roof. Install with ease and confidence knowing your roof is protected against the harsh elements that these hooks are designed for.