groSolar, a Vermont-founded development, engineering, procurement, and construction firm, announces project milestones following acquisition by EDF Renewable Energy.
groSolar announced today its ability to provide a broader portfolio of solutions as it joins the EDF Renewable Energy (EDF RE) family of companies. EDF RE is a leading North American renewable independent power producer (IPP) and independent service provider (ISP). groSolar, a Vermont-founded development, engineering, procurement, and construction firm, will continue to operate independently as it delivers distributed solar solutions to customers across the US.

In a joint announcement on Monday, executives of both companies praised the synergy of groSolars specialization in 1 to 30 megawatt solar projects with EDF REs renewable energy businesses including energy storage solutions. "The combination of groSolars 17-years of industry leading experience with EDF REs capabilities and dynamic portfolio of services will provide our clients with an unsurpassed ability to maximize the benefits of solar energy," stated groSolar CEO Jamie Resor.
Tristan Grimbert, President and CEO of EDF RE added, "groSolars established and successful position in the distributed generation segment will be a key contributor to our growth plan and augments the comprehensive energy offerings of the EDF group."
In the coming months, groSolar will be commencing or completing construction of projects in multiple states including New York, Vermont, Michigan, and Florida. Combined, these projects will offset over one hundred and eleven thousand tons of carbon dioxide annually. "groSolar looks forward to continuing its work as a local partner and delivering clean renewable energy projects to our current and future clients" said Resor. Dave Kirkpatrick with SJF Ventures and groSolar board member added, "We are excited that EDF RE has the network and resources to help groSolar continue its rapid expansion in the distributed solar industry." For more information visit grosolar.com and edf-re.com.
About groSolar
groSolar is an industry-leading large commercial- and utility-scale solar development, engineering, procurement, and construction firm serving the 1 to 30 MW market. With over 2,000 installations nationwide, groSolars experience spans a broad spectrum of applications. These include applications atop brownfields/landfills, agricultural properties, and municipal, corporate, educational, and manufacturing facilities. groSolar provides a one stop source for all your solar project needs including on-going operations and maintenance.
About EDF Renewable Energy:
EDF Renewable Energy is a leading US independent power producer with nearly 30 years of expertise in the renewable industry, covering all range of services from project origination, development, sales and marketing, to long-term asset management. EDF Renewable Energy specializes in wind and solar photovoltaic with presence in other segments of the renewable energy market: storage, biogas, biomass, hydro, and marine energy. EDF Renewable Energys North American portfolio consists of 8 gigawatts of developed projects with 4.1 gigawatts of installed capacity throughout the US, Canada, and Mexico. The operations and maintenance subsidiary, EDF Renewable Services, operates over 10 GW throughout North America. EDF Renewable Energy is a subsidiary of EDF Energies Nouvelles. EDF Energies Nouvelles is the renewable energy arm of the EDF group, the leading electricity company in the world. For more information visit: http://www.edf-re.com
Featured Product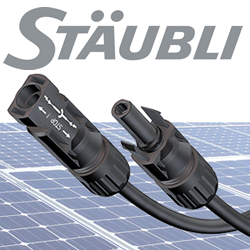 ​Stäubli Electrical Connectors are used on more than 300 GW, over 50% of the PV capacity worldwide. The MC4 family of UL and TUV listed products include connectors, in-line fuses, branch connectors, cable assembly and more.