Bournes Floating Hybrid Power Panel Almost Triples Output Over Same Size Solar Panel
Bourne Energy, developer of the BackPack Power Plant and the OceanStar wave power generator, has recently developed the Fusion Power Panel. The Fusion Panel breaks through the intermittent, low energy barrier that has held back renewable energy for so long.

This new power technology is based on the fact that while most regions of the planet have at least one commercially viable renewable energy source (wind, solar, hydro, geo), there are others that have more than one renewable source available at the same site. Bourne Energys Fusion Power Panel "dual energy" system is designed to harness energy from both solar and hydro sources at the same site and at the same time. This unit raises its energy density to a higher level than other clean power systems, even challenge fossil fuels in certain areas.
The low, streamlined panels are designed to be moored in rivers, canals, tidal flows and aqueducts. Marinized solar panels on the topside of the float capture the suns power while micro-hydrokinetic turbines on the bottom harness hydropower from the passing current. Together the units silently produce power without being interrupted by clouds, rain or even nightfall.
This unique combination also boosts power output of both the solar and hydro components. The surrounding water is used to cool the PV panel increasing output by up to 10%. It is also used to spray dust and dirt off the surface of the PV panels which can rob up to 30% of the power. Further, this configuration eliminates the need for foundations and supports that make up as much as 40% of total PV systems costs. The floating platform also provides a strong, stable, cost-effective operating and maintenance foundation for the hydrokinetic turbine array. Finally, the units operate silently and offer very low visual impact while requiring no footprint on the ground or dam in the water.
The US Defense Department, the nations largest consumer of energy, needs less vulnerable sources of power to enhance national security. The focus is squarely on security, rather than the environment or even potential savings. The military wants on-site distributed generation and smart microgrids, which they see as forming the backbone of the US military base of the future. And they need a system that can be installed quickly and operate without the complex, expensive energy storage system required today.
The potential market for such a high performance renewable energy system is growing quickly through all branches of the US military. Applications range from baseline and backup power for major bases, smaller more remote bases and naval bases. The Fusion Power Panels strong, steady, zero-fuel power output makes it particularly valuable for: backup power for data centers, strategic buildings as well as remote power charging stations for electric vehicles and ROVs. This power technology brings electricity to US military bases while bypassing the need for installing expensive grid lines. This technology offers the military the opportunity to rapidly speed up its transition toward a resilient, sustainable energy future.
Featured Product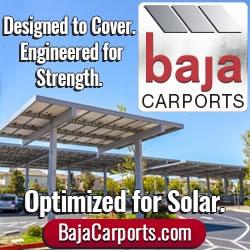 Baja Carports offers an extensive solar support system product line customized to customers' site specifications by in-house engineers, meeting their parking lot coverage, plus optimal PV production needs. Baja's Full Cantilever Tee is often paired with its Semi and Full Cantilever carports to meet live/loads up to 60psf and wind speeds to 160mph. All Baja products are pre-fabricated, bolted connections, pre-galvanized structural steel for fast on-site installation and project aesthetic requirements."