AlsoEnergy ranks #1 Among Independent Software Vendors (ISVs) for Solar Monitoring in the Americas; #5 ISV worldwide.
AlsoEnergy, a leading provider of monitoring and SCADA solutions for solar power systems, is pleased to share results from the Global PV Monitoring 2016-2020 report published by GTM Research.

In 2015 AlsoEnergy maintained their spot as the top-selling Independent Software Vendor (ISV) for commercial and industrial PV in the Americas, and they are now the top selling solar monitoring ISV overall in this region. These numbers reflect AlsoEnergys robust 42% growth rate in 2015.
Among ISVs, AlsoEnergy now ranks as the fifth largest solar PV monitoring provider globally across all market segments. This ranking has jumped up from a seventh-place result in 2014 and a eleventh-place result the year before. Total monitored assets at AlsoEnergy cover more than 5GW of power across more than 14,000 independent sites worldwide, including more than 3GW of PV assets.
Insight into market performance is important for clients who are choosing monitoring providers for long-term contracts. "Our company selected AlsoEnergy as our preferred monitoring provider in 2012" says Matt Murphy, Director of Operations & Maintenance at Borrego Solar. "We stick with AlsoEnergy because they help us realize greater operational efficiency with lower costs and reduced administrative workload."
This report about global PV monitoring markets, trends, and leading players is authored by Cedric Brehaut, Executive Consultant and founder of SoliChamba Consulting. "AlsoEnergy continues to build market share in a rapidly growing solar PV monitoring market," said Brehaut. "They have maintained regional market leadership in the commercial and industrial segments, while approximately doubling their monitored capacity in the utility segment in 2015."
"We appreciate our customers commitment to AlsoEnergy and recognize that their loyalty has enabled us to become the #1 ISV in North America for PV monitoring," said AlsoEnergy CEO Robert Schaefer. "In return, we are increasing our investment in product development, service and support to ensure that we continue to exceed customer expectations and maintain our #1 ranking."
About AlsoEnergy
AlsoEnergy is a software company that provides monitoring and SCADA solutions for solar PV projects and other energy systems. They work with top-tier investors and developers to monitor over 5 GW of power spread across more than 14,000 sites worldwide. As an independent provider, AlsoEnergy is uniquely well positioned to provide fully compatible service for diverse portfolios, and to integrate with evolving technology in the years to come. AlsoEnergy provides 2 industry-leading software platforms: PowerTrack™ and DECK Monitoring.
For more information, visit: www.alsoenergy.com
About Borrego Solar
Established in 1980, Borrego Solar Systems Inc. is one of the leading designers, developers, installers and O&M providers of commercial and utility photovoltaic (PV) solar power systems in the United States with more than 210 megawatts (MW) of installations in operation and nearly 100 MW currently under construction. Borrego Solar is a market leader nationally in addition to having the largest market share in Massachusetts and New York. With more than three decades of experience, Borrego Solars PV systems are efficient, reliable and cost-effective. The companys mission is to solve the world's energy problems by accelerating the adoption of renewable energy. Its people are committed to excellence in every aspect of solar design, construction and operation. For more information, visit www.borregosolar.com.
Featured Product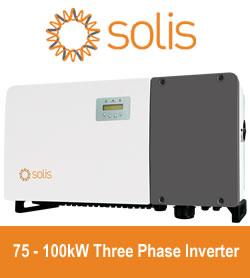 Solis75kW - 100kW series high-power string inverters are widely used in industrial and commercial rooftops. Solis's new three-phase string inverter is the first choice for industrial and commercial photovoltaics. 75-100kW three phase series string inverter have Maximum 28 strings input, support "Y" type connection in DC side. Maximum string input current 13A, support bifacial modules access.Supports anti-PID function to improve system efficiency.