Governor David Ige & Honolulu Mayor Kirk Caldwell Help Celebrate States First Energy Storage System Under New Rooftop Solar Program
SAN FRANCISCO, May 06, 2016 (GLOBE NEWSWIRE) -- Sunrun Inc. (Nasdaq:RUN), the largest dedicated residential solar company in the United States, today announced the first completed installation of its Sunrun BrightBox™ energy storage system in Hawai'i. The combined home solar with energy storage system is also the first ever to be installed under Hawaiian Electric Companys (HECO) new Customer Self-Supply (CSS) Program. Under the program, Hawaii homeowners can install a rooftop solar system with a battery so they can use clean, affordable solar energy day and night, with power priced below utility prices today. Sunruns commitment to affordability means homeowners can get BrightBox now through an affordable monthly or prepaid lease for little to no money down.

Governor David Ige, City and County of Honolulu Mayor Kirk Caldwell and other community leaders joined Sunrun today to celebrate the installation of the first BrightBox system at the home of the companys first storage customer, Anthony Aalto, Chairman of the Sierra Club O'ahu Group. Representative David Lee (District 51), Chair of the Committee on Energy and Environmental Protection, presented Sunrun with a proclamation from the State Legislature recognizing the company for installing Hawai'is first ever self-supply home solar plus energy storage system.
"Hawai'is 100 percent clean energy goal requires an aggressive transformation in how energy is generated, stored, and used. The availability of an affordable home solar plus storage option allows the average Hawai'i resident to be a part of the solution," said Gov. Ige. "Hawai'i is happy to partner with forward-thinking companies who are innovating and reducing the cost of living for the average resident."
"The storage of energy produced by the sun is the next wave in rooftop solar, and its exciting that Honolulu will be on the cutting edge for these new products being offered by Sunrun," said Mayor Kirk Caldwell. "Battery storage provides consumers an environmentally friendly choice that did not exist just a few years ago."
With a BrightBox system, Anthony and other Hawai'i homeowners can store excess solar power generated during the day so they have access to that power at night and can save even more on their electric bills. The homeowner stays connected to the energy grid if they need electricity beyond what their BrightBox system generates.
Home solar coupled with energy storage also provides additional benefits to the electric grid for all Hawai'i residents—as more solar plus storage systems are installed, the state can eliminate the need for expensive backup power plants and new power lines or defer expensive energy grid upgrades helping all Hawai'i residents save money.
"As the pioneers of solar-as-a-service, Sunrun has been at the forefront of making solar affordable and accessible for average homeowners," said Lynn Jurich, chief executive officer of Sunrun. "Were proud to continue our leadership by introducing an affordable energy storage solution that offers Hawai'i homeowners immediate savings without a high down payment. We will continue to innovate to deliver customers more choice and savings."
Homeowners interested in owning their system can also buy it or finance it through other innovative options from Sunrun. Regardless of how they choose to get BrightBox, Sunrun takes care of everything from permitting to installation so customers can go solar without it disrupting their lives—all they need to decide on is what to do with the money theyll be saving.
For more information about Sunrun BrightBox, visit Sunruns plans and services page here.
About Sunrun
Sunrun (Nasdaq:RUN) is the largest dedicated residential solar company in the United States with a mission to create a planet run by the sun. Since establishing the solar as a service model in 2007, Sunrun continues to lead the industry in providing clean energy to homeowners with little to no upfront cost and at a savings to traditional electricity. The company designs, installs, finances, insures, monitors and maintains the solar panels on a homeowner's roof, while families receive predictable pricing for 20 years or more. For more information please visit: www.sunrun.com.
Featured Product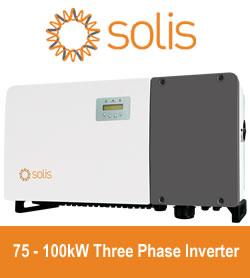 Solis75kW - 100kW series high-power string inverters are widely used in industrial and commercial rooftops. Solis's new three-phase string inverter is the first choice for industrial and commercial photovoltaics. 75-100kW three phase series string inverter have Maximum 28 strings input, support "Y" type connection in DC side. Maximum string input current 13A, support bifacial modules access.Supports anti-PID function to improve system efficiency.